Maintain Corporate Value by Enhancing Internal Systems and Further Instill Our Mission Statement.
Compliance Implementation Structure
The ANA Group has developed a compliance structure based on the ANA Group Compliance Regulations to promote compliance with laws, regulations, and other standards related to business activities. Under the direction of the Group ESG Management Promotion Committee, which is an advisory body to the board of directors, each company and department appoints an ESG Promotion Officer that is responsible for promotion and an ESG Promotion Leader as a key driver of ESG initiatives. These officers and leaders strive to raise awareness of compliance across the ANA Group. Important matters are discussed and reported by the Chief ESG Promotion Officer to the Board of Directors.
Major Initiatives
Anti-Bribery Policy
With regard to anti-bribery measures, we have established the ANA Group Anti-Bribery Rules in order to comply with the anti-bribery laws of each country, and have put in place a system to minimize legal risks on a global level and prevent situations that may lead to a decline in corporate value. At the same time, there is a provision on how to respond when a violation is found. Training on the anti-bribery laws is provided for officers and employees of overseas branches in Japanese and English, along with training on competition laws.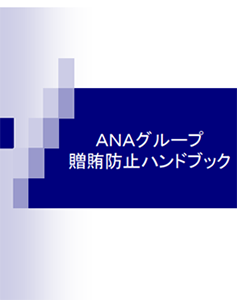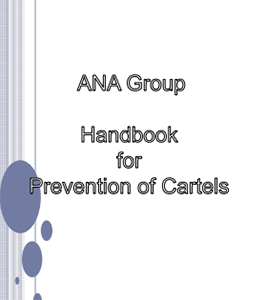 Legal Compliance Education
We conduct a variety of educational programs for every Group executive and employee to acquire correct knowledge of and exercise appropriate judgment related to various laws and regulations. We hold regular seminars on contract practices, labor practices, and laws and regulations related to air transportation, improving our familiarity with business-essential knowledge. Seminars on competition law, anti-bribery law, and air transportation for Group executives and employees working overseas are also available, focusing on minimizing legal risks globally. We also sponsor seminars tailored to topics and contents that reflect the needs of each Group company and/or department to foster a more legal-related competence. Due to the impact of COVID-19 in fiscal 2020, we shifted to online training from the conventional class sessions, which made it easier for overseas participants to attend.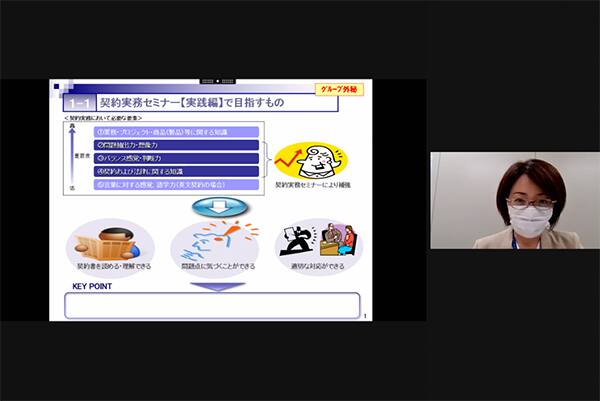 Information Dissemination
To spread awareness of compliance throughout the ANA Group, we distribute e-mail and other newsletters on topics related to revisions to laws and regulations, as well as points of caution regarding labor and contract practices. We also post manuals and guidelines for various laws, regulations, and rules on the compliance website on our intranet. In this way and others, we provide an infrastructure where Group executives and employees have access to such information at any time. The website also accepts questions from employees regarding laws and regulations, helping Group executives and employees make appropriate decisions in compliance with laws and regulations.
Initiatives to Prevent Harassment
We provide various training and education programs to prevent workplace harassment, including training for newly appointed managers. In addition, with the enforcement of the Amended Labor Policy Comprehensive Promotion Act on June 1, 2020, ANA Group Power Harassment Prevention Rules was established. In addition, we provide harassment education through e-learning for all Group executives and employees, and aim to deepen the correct understanding of harassment, and to create a more comfortable work environment that does not tolerate harassment throughout the Group.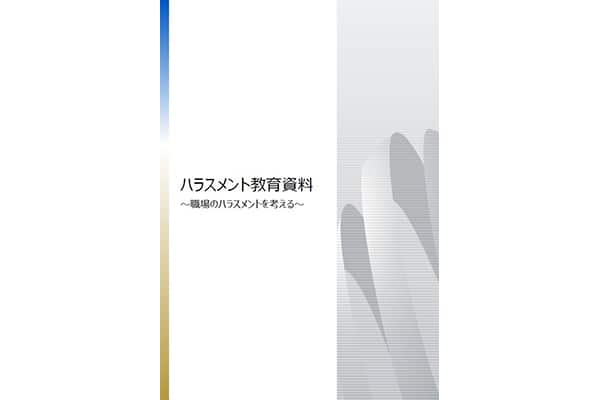 Group Companies Compliance Survey
Surveys on compliance at Group companies are conducted once each year. These surveys consist of self-checks on the degree to which compliance was practiced with regard to relevant laws and regulations as well as examinations of issues pertaining to each Group company and to the entire Group. We conduct follow-ups with each company based on survey results as necessary in the interest of resolving issues.
Strengthening Cooperation with Group Companies and Overseas Branches
To strengthen the compliance system across the entire Group, we have clarified the points of contact between our Legal & Insurance Department, Group companies, and ANA overseas branches, building and operating a system facilitating two-way communication.
Internal Reporting System
Based on the ANA Group Rules for Handling Internal Reporting, we have set up a point of contact (ANA Alert) both inside and outside the Group (via a law firm) to collect compliance-related information and resolve any issues. The reporting system is available to all Group executives, employees, and temporary personnel involved in the Group's business. ANA Group retirees and executives and employees of our business partners may also use the reporting system. We protect the privacy of the whistleblower and relevant parties, and assure that no punitive measures will be taken against those that seek consultation or cooperate in confirming facts. This enables us to obtain internal risk related information promptly and aids in selfcorrection. In fiscal 2020, there were 192 reports within the Group, and the system has spread throughout the Group as a reliable and effective whistleblowing system. We are the first company in the airline industry (at the time of registration on April 9, 2021) to be certified under the Whistleblowing Compliance Management System (SelfDeclaration of Conformity)* of the Japan Consumer Affairs Agency as a business in compliance with whistleblowing compliance certification standards. These standards are based on the Guidelines for Private Business Entities Regarding the Development and Operation of Whistleblowing Systems Based on the Whistleblower Protection Act. We will continue to maintain a reliable and effective whistleblowing system to prevent situations that may lead to a decline in corporate value.
Whistleblowing Compliance Management System (Self-Declaration of Conformity) is a system introduced by the Japan Consumer Affairs Agency in February 2019. Under this program, businesses evaluate their own whistleblowing systems in light of the certification standards set by the agency, and apply for registration of the results with the designated registration body. Registered businesses will be authorized to use the WCMS (Whistleblowing Compliance Management System) logo mark.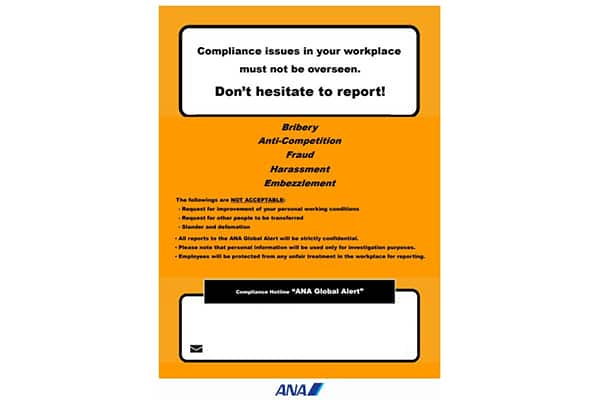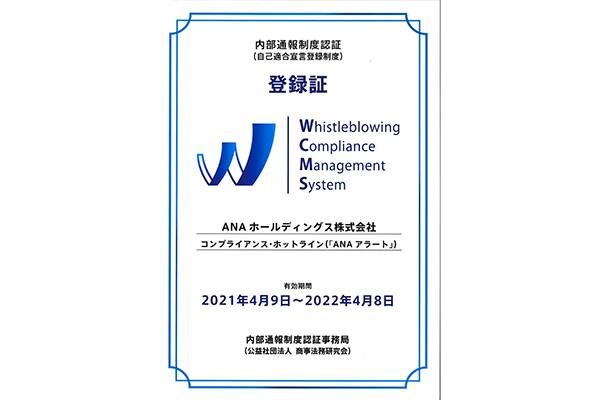 Cases of Compliance Violations
If a compliance violation is found, we take strict measures, such as disciplinary action, in accordance with the rules established by each Group company.
Internal Audit
The ANA Group Audit Department conducts internal audits for the purpose of evaluating the Group's business operations in its management, operations, and performance, based on legal, rational, and ethical perspectives. We also audit and evaluate promotion structure and operational statuses of each company and department to ensure compliance.