Basic Approach
Japan is famous for its traditional culture and tourism attractions. On the other hand, Japan faces concerns about falling populations in rural areas and the gradual decline of traditional industries. The ANA Group works together with other companies, NGOs, NPOs, and local governments to be a bridge to deliver the rich heritage of Japan to the world.
Our efforts contribute to regional revitalization while generating aviation demand over the long term. Through social contribution activities in the areas where we operate, we seek to build productive relationships with stakeholders and resolve social issues.
Implementation Structure
In October 2017, we set up the Tourism Development within ANA Marketing Sales to integrate the ANA Group company initiatives and maximize results in a more coordinated fashion.
The Tourism Development drives the ANA Group Regional Revitalization Meeting to coordinate among group companies, pursuing strategic actions for regional revitalization by leveraging the comprehensive resources of the ANA Group to promote tourism.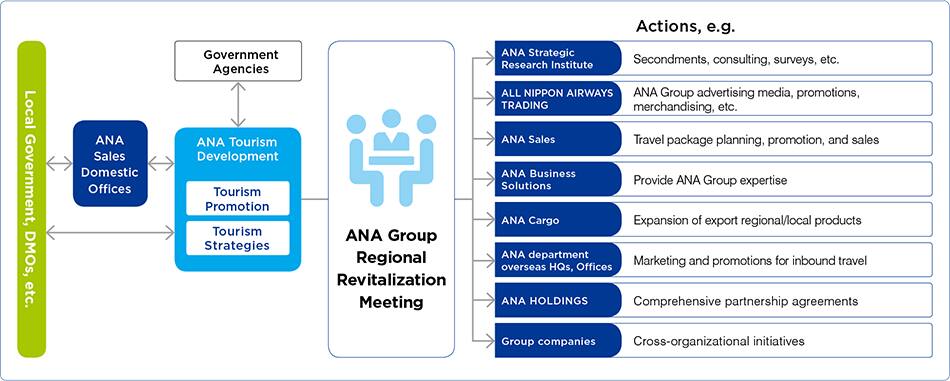 Major Initiatives
The ANA Group focuses on two initiatives in "Regional Revitalization (Tourism Promotion)" and "Social Contribution."
Regional Revitalization
(mainly tourism promotion)
Offer consulting services leveraging ANA Group human resources
Discover and market tourism resources throughout Japan
Develop, distribute, and sell local products
Establish systems to host foreign visitors to Japan
Stage promotional campaigns involving air transportation services
Promote domestic/international tourism via ANA flights
Develop training programs incorporating ANA Group expertise
Social Contribution
Participate in reconstruction activities
(Regional recovery support after large-scale disasters)
Support environmental and biodiversity conservation programs
(Project to regenerate coral reefs in Okinawa, etc.)
Develop next-generation education programs
(Aviation Class, career training, etc.)
Overseas in the areas where we operate implement social contribution programs
(Educational support, tourism resource preservation, etc.)