We will pursue our corporate activities while placing importance on our relationships with local communities, and contribute to expanding interaction among people, and revitaling the local economy.
Contributions to SDGs
Basic Approach
Regional revitalization is an initiative to overcome the declining population and shrinking regional economy, and to ensure that the region will grow in the future. In addition to air transportation, the ANA Group is developing businesses that contribute to the local communities in many areas, including hometown tax donations, supporting primary industries, digital advertising using ANA Mileage Club data, and resolving social issues through our mobile app ANA Pocket*1. With the relationships we have built with local communities through our airline and travel businesses, we collaborate with local governments, NGOs, NPOs, as well as various local companies. These collaborations will address the concerns and issues of local communities, and both utilize and apply the strengths and assets of the ANA Group, while focusing on the promotion of tourism and agriculture for the sustainable development of local communities. We will take on the challenge of expanding the scope of problems to resolve.
*1.

ANA Pocket: A mobile app service run by ANA X Inc. Users can collect points for their daily movement and exchange them for a variety of perks.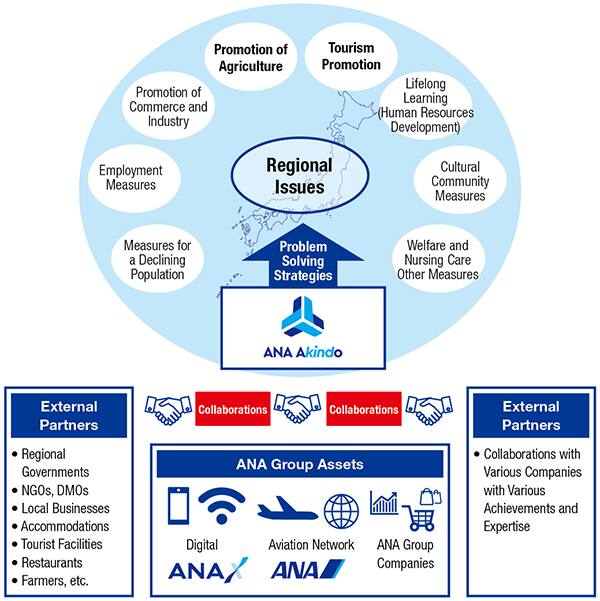 Implementation Structure
The ANA Akindo Regional Revitalization Department works with 33 branches nationwide to hold community-based activities and organizes the ANA Group Regional Revitalization Meeting. This meeting coordinates and integrates group companies initiative and promotes itself as a place to connect with regional issues through value creation and planning.