Together as one, ANA Group will overcome the COVID-19 crisis and establish a new group business structure.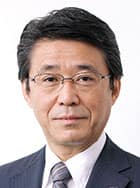 We would like to express our sincere gratitude for your continued support.
Since the beginning of 2020, the ANA Group has been greatly impacted by the spread of COVID-19, with a significant decrease in air travel demand. However, all of our employees remain committed to safety through our daily work, taking every possible measure to prevent any infectious spread at airports and on airplanes.
In fiscal 2020, we swiftly implemented various initiatives including the significant reduction of domestic and international flights and cost cutting measures. We expect COVID-19 to continue to impact both the qualitative and quantitative aspects of air travel demand. In order to build resilience toward any future global risks, we will address new challenges and pursue a new business structure.
The transformative measures to a new business structure is comprised of 3 pillars.
Reduce resources (aircraft equipment and personnel):
We will continue to temporarily reduce the scale of airline operations and survive through the impact of COVID-19.
Transform the Group Airline Business Model:
In addition to ANA and Peach Aviation, we will establish a third airline brand based on the Air Japan entity, and pursue sustainable growth by becoming an airline group that can meet the wide range of customer needs.
Each airline brand will develop new service models to meet demands of the new normal in the post-COVID society, while cooperating in its marketing activities to enhance the value of the customer experience and maximize lifetime value.
Utilization of customer data assets:
Through ANA X Inc. we will leverage the strong connection points with our customers through our airline, travel, and lifestyle businesses to grow our digital platform business and expand non-airline revenue.
Through ANA Akindo Co. Ltd., we will utilize ANA Group's various knowledge and resources to grow our business network across Japan as we aim to create value for both local regions and the ANA Group.
"Hardship Now, Yet Hope for the Future"
These are the words of our founder Masuichi Midoro, and the top management and employees of this company have embraced this spirit to contribute to creating a better society founded on safety. ANA's predecessor, Japan Helicopter Transport, started with just two helicopters and has grown ever since through continuous efforts and challenges. We have faced many difficulties in the past, but each time, we have overcome the crisis with the support of all of our employees, and emerged stronger.
With the Group united together, we will overcome the COVID-19 crisis as well, and we will continue to pursue sustainable growth which will serve as a bridge for people around the world.
June 1, 2021
ANA Holdings Co., Ltd.
Shinya Katanozaka, President and CEO