Uniting the World in Wonder
The ANA Group is determined to move forward, cherishing the excitement to explore new opportunities together with the world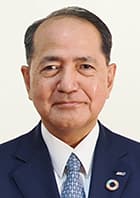 I would like to express my sincere gratitude to our valued customers, shareholders, and stakeholders for the continued support for the ANA Group.
In fiscal 2022 we expect to realize a return to profitability for the first time in three years. Looking back now on our journey since 2020, when our customers suddenly disappeared from airports, I am filled with many varying emotions. Firstly I would like to express my sincere gratitude to all our customers for the support for the ANA Group over the past three years. We also received a great deal of assistance from many other stakeholders, including our shareholders, financial institutions and the government. I am also immensely grateful to the ANA Group employees who, in the midst of uncertainty, gritted their teeth and kept moving forward united as one.
The ANA Group has announced its mid-term corporate strategy for FY2023-2025Opens in a new window.In the case of an external site,it may or may not meet accessibility guidelines.. We will continue to take on future-oriented challenges through corporate activities that enrich people's lives in all situations, and contribute to economic development and the vitalization of society.
Focused around our core airline business, and based on a foundation of safety and security, through the deployment of our three brands, ANA, Peach, and AirJapan, we will work to cater to a wide range of global demand. We will also move to strengthen our life value business, including avatarin, which utilizes the latest technologies to provide solutions to social issues, and ANA NEO, which engages in development and operations in the metaverse, as we continue to focus on businesses that respond to changes in society, and in doing so improve our profitability. In addition, we will expand the ANA ecosystem through services closely connected with daily life, centered on our mileage business, including ANA Mall and ANA Pay, and realize a "world where people can live on miles."
In order to embody our vision and advance as a group, for the first time in 10 years we have formulated a new management vision: "Uniting the World in Wonder." This vision reflects the thoughts of myself and all group employees, based on repeated discussions. We define "wonder" as "energy" that moves and connects people. As a company that started out in the aviation business, we want to fill the world with hope and joy by creating ever more diverse connections and expanding possibilities for ANA Group employees, customers, and society. Through our employees engaging in their activities with a sense of wonder, we want to bring a world of wonder to our customers. Seeking to pioneer a new era and in doing so fill the world with wonder, the ANA Group will continue to move steadily ahead.
April 1, 2023
ANA HOLDINGS INC.
Koji Shibata, President and CEO