Basic Approach
The ANA Group's ESG management promotion aims to fulfill its social responsibility by communicating with various stakeholders (customers, employees, shareholders, investors, business partners, national and local governments, local committees, etc.), allowing us to accurately identify social needs and take suitable measures. Moreover, the group aims to ensure the security interest of society as well as our own sustainable growth, thereby creating social and economic value concurrently in order to continue contributing to the creation of future society.
Based on this philosophy, the ANA Group pursues ESG management according to the following tenets:
We will demonstrate sound business management by conducting all of our business activities with the utmost priority on safety and under strict compliance, while ensuring thorough risk management that enables accurate and immediate action to be taken in times of crisis.
We will strive to address environmental and social issues through our corporate activities and contribute to the development of a sustainable society.
In 2008, the ANA Group joined the United Nations Global Compact. The UN Global Compact is a movement joined voluntarily by companies and organizations to build a global framework for achieving sustainable growth. We identify opportunities and risks through engagement with stakeholders in Japan and around the world, pursuing initiatives toward the creation of social value and economic value from a global perspective.
Themes of ESG Management by Stakeholder Group
Stakeholder Group
Major Themes of ESG management promotion
Pursuit of safety and security / Respect for human rights
Customers
Improvement of safety, convenience, and comfort
Provision of universal services
Shareholders and investors
Accomplishment of value creation targets, issuance of shareholder returns
Timely and appropriate disclosure of information
Business partners
Fair operating practices
Promotion of ESG Management through the supply chain
Employees
Cultivation of human resources
Promotion of diversity and inclusion
Environment
Control CO2 emissions and other environmental burdens
Communities
Stimulating economies through regional revitalization, performing social contribution activities in the areas where we operate
Implementation Structure
We established the Group ESG Management Promotion Committee according to the Group ESG Management Promotion Committee Regulations. This committee, which operates under the guidance of the president, consists of the Chief ESG Promotion Officer (as chair), ANA HOLDINGS and group company directors, executive officers, and full-time Audit & Supervisory Board members of ANA HOLDINGS. The committee establishes core policies, formulates proposals, and deliberates matters related to ESG management promotion. After deliberations, important matters are elevated to the board of directors, the Audit & Supervisory Board, and the Group Management Committee, ensuring the smooth promotion of ESG management within the group. Based on these regulations, each group company has an appointed ESG Promotion Officer (EPO) as a supervisor of ESG management promotion and ESG Promotion Leaders (EPLs) to lead their organization's ESG management promotion.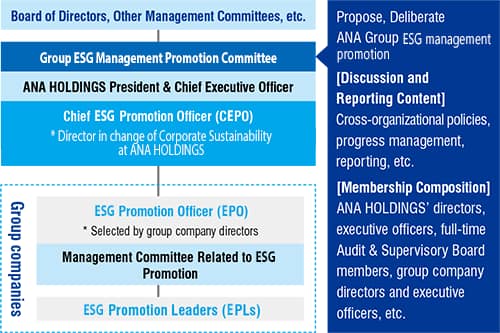 FY2017 to FY2020 Medium-Term CSR Targets
FY2017 to FY2020 Medium-Term CSR Targets Environment
Material Issues
Future Initiatives
Environment
Initiatives to control CO2 emissions

Aircraft Flight Operations

Improve fuel efficiency by adopting fuel-efficient aircraft and streamlining operations
Look into methods corresponding to the ICAO rules to generate carbon-neutral growth on international routes in 2021 and beyond (credits, biojet fuel purchase, etc).

Ground Operations

Reduce energy usage based on the Act on the Rational Use of Energy (target: annual 1% reduction)
FY2017 to FY2020 Medium-Term CSR Targets Social
Material Issues
Future Initiatives
Social
Human Rights
Engage in United Nations Guiding Principles on Business and Human Rights

Continue to evaluate potential risks related to the ANA Group
Engage in appropriate response to risk and evaluate performance
Proactive information disclosure through our websites
Establish a relief system available to victims of human rights abuses

Social
Diversity & Inclusion

Customer Diversity Initiatives

Lead the world in offering the most comfortable services for all customers (universal service)

Encouraging Employee Diversity & Inclusion

Encourage contributions of a diverse employee base
Implement environmental measures and work-style reform to foster innovation (new value)

Social
Regional Revitalization

Regional Revitalization Initiatives

Establish a communications framework with national governments, local governments, NPOs, etc.
Regional revitalization leveraging synergies from the comprehensive capabilities of the ANA Group

Social Contribution Programs

Implement next-generation education programs
Expand our social contribution programs in overseas areas where we operate
Promotion of ESG Management and Contribution to SDGs
The ANA Group engages in management reflecting considerations of environment, social, and governance (ESG), aiming for sustainable growth by creating social value and economic value simultaneously. We aim for co-existence and co-creation with future society through our global business activities, contributing to the Sustainable Development Goals (SDGs) of the United Nations.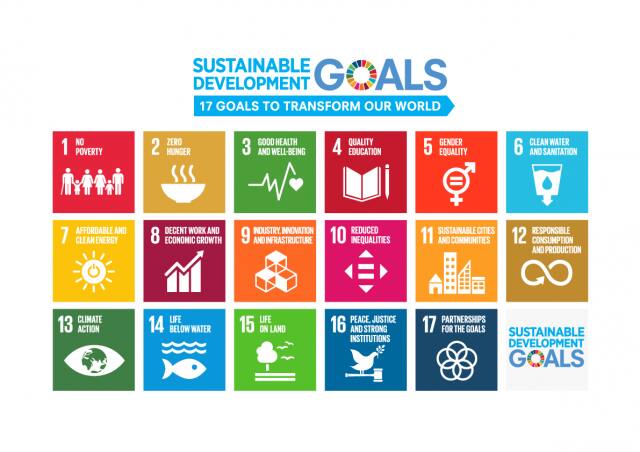 Initiatives for Internal Promotion
The ANA Group established the Social Responsibility Guidelines PDF Opens in a new window.In the case of an external site,it may or may not meet accessibility guidelines. to serve as a mandatory rule for group executives and employees. These guidelines reinforce the foundations of ANA Group ESG management. In line with these guidelines as a code of conduct to contribute to a better, more sustainable society with honesty and integrity, we strive to conduct internal employee education and awareness surveys for better understanding and participation.
Social Responsibility Guidelines
We will provide security and satisfaction to customers and society.
We will obey the statutes and rules of each country and area.
We will manage information appropriately and communicate with integrity.
We will respect human rights and diversity.
We will take actions that reflect consideration for the environment.
We will help to build a positive society.
Environmental and Social Activities Policy
Through our motto of "Trustworthy, Heartwarming, Energetic!" we will support efforts to build better people, better regional communities, and a better planet so that we may build a better future.
Environmental Activities
Building a Better Planet
Social Contribution Activities
Building Better People and Communities
Conducted Through Our Business

Air

Activities to reduce our impact on the environment, with the focus on reducing the CO2 emissions of our core air transport business.

Becoming the Wings of Society

Activities to increase the appeal of people and communities around the world by connecting them through air transport.

Conduct with Communities As Corporate Citizens

Land and Sea

Environmental activities which are conducted in conjunction with local communities.

Fostering Children's Wings

Activities which foster the dreams of children around the world and encourage them to forge their own paths to the future.
Supply Chain Initiatives
The ANA Group aspires, through our business activities, to achieve what is proclaimed in our mission statement: "Built on a foundation of security and trust, 'the wings within ourselves' help to fulfill the hopes and dreams of an interconnected world."
Amid the growth of the global market economy on one hand, we face a heightened sense of crisis in recent years about the sustainability of our planet, as we see clear evidence of depletion of finite natural resources, water shortages, global warming, and other environmental issues. Industrial accidents and human rights issues, moreover, have come to the surface on companies' supply chains that now extend across the globe, and these social issues are becoming increasingly more serious. Against this background, companies are required not only to comply with countries' laws, regulations, and rules, but also to act by respecting internationally recognized standards and principles, in both letter and spirit, in all aspects of their business activities and to contribute to bringing about a sustainable society.
The ANA Group hopes not only to provide services that are safe and give a sense of security to our customers, but also to exercise initiative in our procurement activities to promote regional and global undertakings that provide better care for society and the environment and to contribute to creating social value.
As part of those efforts, the ANA Group has established the ANA Group Basic Procurement Policy, as stated below, to promote sustainable procurement activities across our supply chains.
Basic Procurement Policy
The ANA Group has an open-door policy in our procurement activities, giving access to both domestic and foreign suppliers. Our procurement activities will comply with related laws, regulations, and rules, and will be based on fair, equitable, transparent processes under the principle of free competition. The ANA Group will endeavor to develop mutual trust and complementarity with our business partners.
The ANA Group will engage in responsible procurement activities that address human rights and environmental concerns.
The ANA Group will promote innovation and meet customers' expectations by working with suppliers who give priority to assuring quality, setting appropriate prices, and meeting delivery dates and who have a stable foundation for business management and adaptability to change.
The ANA Group will generate social and economic value from across our supply chains and contribute to creating a more sustainable world.
Supplier Code of Conduct
The ANA Group drew up the ANA Group Supplier Code of Conduct, following on the establishment of the ANA Group Basic Procurement Policy. We would like to have an understanding of all of our suppliers related to the ANA Group's services and products to work together with the ANA Group in complying with this Code of Conduct.
Please read and understand the purpose and contents of the ANA Group Supplier Code of Conduct. We ask for your cooperation in working with the ANA Group in realizing a more sustainable world.
Supplier Code of Conduct PDF Opens in a new window.In the case of an external site,it may or may not meet accessibility guidelines.
Outline of " Supplier Code of Conduct "
1.Quality Assurance and Business Continuity Plan

1.1.

Quality assurance and establishment of quality control systems

1.2.

Business continuity plan

2.Compliance and Anti-Corruption Measures

2.1.

Compliance

2.2.

Fair trading

2.3.

Prohibition of bribery, corruption, etc.

2.4.

Elimination of any dealings with antisocial forces

2.5.

Management and protection of intellectual property, confidential information, and personal information

2.6.

Prevention and early detection of unlawful conduct

2.7.

Internal control systems

3.Labor Standards

3.1.

Respect for human rights and elimination of discrimination

3.2.

Elimination of abuse and harassment

3.3.

Elimination of forced labor

3.4.

Elimination of child labor

3.5.

Appropriate management of working hours

3.6.

Wages and benefits

3.7.

Respect for freedom of association and rights to bargain collectively

3.8.

Respect for foreign nationals and migrant workers

3.9.

Avoidance of aiding in human rights violations

4.Safety and Sanitation

4.1.

Safe, sanitary working environment

4.2.

Response to industrial accidents

4.3.

Response to emergencies

4.4.

Communication

5.Environment

5.1.

Establishment of environmental management systems

5.2.

Response to climate change and biodiversity

5.3.

Efficient use of resources, energy, and water

5.4.

Management of chemical substances

5.5.

Control of contamination and pollution

5.6.

Green procurement

6.Contribution to Local Communities

6.1.

Local communities

6.2.

Respect for the rights of indigenous peoples

7.Information Disclosure
8.Conflict Minerals
The ANA Group Supplier Code of Conduct makes reference to international human rights standards, such as the United Nations Guiding Principles on Business and Human Rights, the International Bill of Human Rights (specifically the Universal Declaration of Human Rights and the International Covenant on Civil and Political Rights and the International Covenant on Economic, Social and Cultural Rights), the basic rights at work and the core labor standards set out in the International Labour Organization Declaration on Fundamental Principles and Rights at Work, other international treaties on the human rights of workers that also cover such matters as wages and working hours, and the United Nations Declaration on the Rights of Indigenous Peoples.
Food Supply Chain Management
In January 2017, the ANA Group became the first Japanese company to join the Bluenumber Initiative. Bluenumber, operated by the Bluenumber Foundation in New York, is a global initiative aiming to create a supply chain platform for food.
Interest in food safety and traceability, environmental conservation in production processes, and respect for human rights related to production activities is rising around the world. We intend to use the Bluenumber platform for in-flight meals and other food-related activities to strengthen our food supply chain management.