Basic Approach
The ANA Group's ESG management promotion aims to fulfill its social responsibility by communicating with various stakeholders (customers, employees, shareholders, investors, business partners, national and local governments, local committees, etc.), allowing us to accurately identify social needs and take suitable measures. Moreover, the group aims to ensure the security interest of society as well as our own sustainable growth, thereby creating social and economic value concurrently in order to continue contributing to the creation of future society.
Based on this philosophy, the ANA Group pursues ESG management according to the following tenets:
We will demonstrate sound business management by conducting all of our business activities with the utmost priority on safety and under strict compliance, while ensuring thorough risk management that enables accurate and immediate action to be taken in times of crisis.
We will strive to address environmental and social issues through our corporate activities and contribute to the development of a sustainable society.
In 2008, the ANA Group joined the United Nations Global Compact. The UN Global Compact is a movement joined voluntarily by companies and organizations to build a global framework for achieving sustainable growth. We identify opportunities and risks through engagement with stakeholders in Japan and around the world, pursuing initiatives toward the creation of social value and economic value from a global perspective.
Themes of ESG Management by Stakeholder Group
Stakeholder Group
Major Themes of ESG management promotion
Pursuit of safety and security / Respect for human rights
Customers
Improvement of safety, convenience, and comfort
Provision of universal services
Shareholders and investors
Accomplishment of value creation targets, issuance of shareholder returns
Timely and appropriate disclosure of information
Business partners
Fair operating practices
Promotion of ESG Management through the supply chain
Employees
Cultivation of human resources
Promotion of diversity and inclusion
Environment
Control CO2 emissions and other environmental burdens
Communities
Stimulating economies through regional revitalization, performing social contribution activities in the areas where we operate
Implementation Structure
We established the Group ESG Management Promotion Committee according to the Group ESG Management Promotion Committee Regulations. This committee, which operates under the guidance of the president, consists of the Chief ESG Promotion Officer (as chair), ANA HOLDINGS and group company directors, executive officers, and full-time Audit & Supervisory Board members of ANA HOLDINGS. The committee establishes core policies, formulates proposals, and deliberates matters related to ESG management promotion. After deliberations, important matters are elevated to the board of directors, the Audit & Supervisory Board, and the Group Management Committee, ensuring the smooth promotion of ESG management within the group. Based on these regulations, each group company has an appointed ESG Promotion Officer (EPO) as a supervisor of ESG management promotion and ESG Promotion Leaders (EPLs) to lead their organization's ESG management promotion.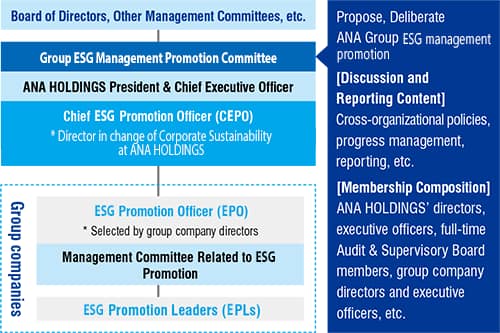 FY2017 to FY2020 Medium-Term CSR Targets
FY2017 to FY2020 Medium-Term CSR Targets Environment
Material Issues
Future Initiatives
Environment
Initiatives to control CO2 emissions

Aircraft Flight Operations

Improve fuel efficiency by adopting fuel-efficient aircraft and streamlining operations
Look into methods corresponding to the ICAO rules to generate carbon-neutral growth on international routes in 2021 and beyond (credits, biojet fuel purchase, etc).

Ground Operations

Reduce energy usage based on the Act on the Rational Use of Energy (target: annual 1% reduction)
FY2017 to FY2020 Medium-Term CSR Targets Social
Material Issues
Future Initiatives
Social
Human Rights
Engage in United Nations Guiding Principles on Business and Human Rights

Continue to evaluate potential risks related to the ANA Group
Engage in appropriate response to risk and evaluate performance
Proactive information disclosure through our websites
Establish a relief system available to victims of human rights abuses

Social
Diversity & Inclusion

Customer Diversity Initiatives

Lead the world in offering the most comfortable services for all customers (universal service)

Encouraging Employee Diversity & Inclusion

Encourage contributions of a diverse employee base
Implement environmental measures and work-style reform to foster innovation (new value)

Social
Regional Revitalization

Regional Revitalization Initiatives

Establish a communications framework with national governments, local governments, NPOs, etc.
Regional revitalization leveraging synergies from the comprehensive capabilities of the ANA Group

Social Contribution Programs

Implement next-generation education programs
Expand our social contribution programs in overseas areas where we operate
Promotion of ESG Management and Contribution to SDGs
The ANA Group engages in management reflecting considerations of environment, social, and governance (ESG), aiming for sustainable growth by creating social value and economic value simultaneously. We aim for co-existence and co-creation with future society through our global business activities, contributing to the Sustainable Development Goals (SDGs) of the United Nations.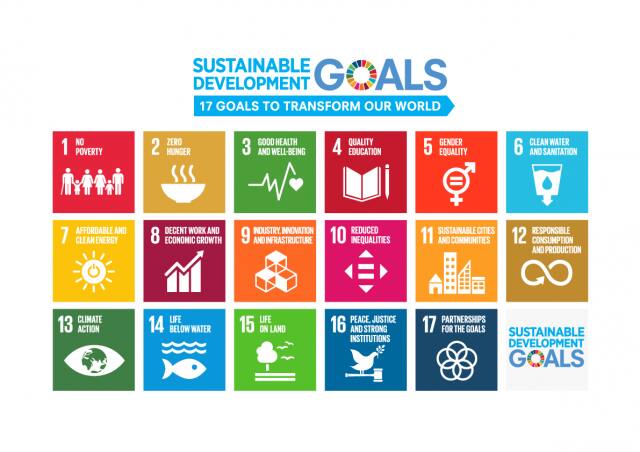 Initiatives for Internal Promotion
The ANA Group established the Social Responsibility Guidelines PDF Opens in a new window.In the case of an external site,it may or may not meet accessibility guidelines. to serve as a mandatory rule for group executives and employees. These guidelines reinforce the foundations of ANA Group ESG management. In line with these guidelines as a code of conduct to contribute to a better, more sustainable society with honesty and integrity, we strive to conduct internal employee education and awareness surveys for better understanding and participation.
Social Responsibility Guidelines
We will provide security and satisfaction to customers and society.
We will obey the statutes and rules of each country and area.
We will manage information appropriately and communicate with integrity.
We will respect human rights and diversity.
We will take actions that reflect consideration for the environment.
We will help to build a positive society.
Environmental and Social Activities Policy
Through our motto of "Trustworthy, Heartwarming, Energetic!" we will support efforts to build better people, better regional communities, and a better planet so that we may build a better future.
Environmental Activities
Building a Better Planet
Social Contribution Activities
Building Better People and Communities
Conducted Through Our Business

Air

Activities to reduce our impact on the environment, with the focus on reducing the CO2 emissions of our core air transport business.

Becoming the Wings of Society

Activities to increase the appeal of people and communities around the world by connecting them through air transport.

Conduct with Communities As Corporate Citizens

Land and Sea

Environmental activities which are conducted in conjunction with local communities.

Fostering Children's Wings

Activities which foster the dreams of children around the world and encourage them to forge their own paths to the future.
Promotion of ESG Management Initiatives Throughout the Supply Chain
The ANA Group believes it is important to promote ESG management measures not just in its own business activities but also throughout the entire supply chain, which includes suppliers, manufacturers, and subcontractors. To facilitate these efforts, we have established the ANA Group Purchasing Policy by referencing international social responsibility guidelines, such as ISO 26000. Based on this policy, we formulated the Supplier Management Policy and CSR Guidelines, which we share with business partners.
We created the ANA Group Purchasing Guidelines based on the following Basic Policy, Purchase Transaction Principles, and Supplier Management Policy.

Basic Policy
The ANA Group selects and enters into purchase transactions fairly, based on outstanding service and rational economics.
The ANA Group enters into purchase transactions domestically or internationally, engaging in fairness, transparency, and straight-forward, simple procedures. We strive to create complementary relationships of mutual trust.
The ANA Group complies with laws and statutes related to purchase transactions in line with the ANA Group's ESG Management Promotion Basic Approach and Corporate Ethics. We consider the preservation of resources and environmental conservation, striving to protect human rights. We also seek to communicate the ANA Group initiatives to our vendors.
Purchase Transaction Principles
Fair Transactions Based on Rational Economics
Purchase transaction decision standards
Pursue Cost-Effectiveness
Respect for the principles of free competition; use purchase bidding
Open
Provide fair opportunities, ensure opportunities for participation by new vendors
Transparency
Fair disclosure of information necessary for the transaction; explanation of reasons for not selecting a vendor
Compliance
Compliance with all related laws and statutes; written contracts
Ethical Transactions
Prohibition against reciprocal transactions or arbitrary preferences; prohibition against personal gain; prohibition against entertainment or gifts beyond social norms
Environment
Confirm environmental conservation condition at vendor as a term of transaction
Human Rights
Prohibition against forced or child labor; confirm labor health and safety conditions at vendor
Non-Disclosure
Maintain the secrecy of information learned during business transactions
Supplier Management Policy
Vendor Selection Standards
The ANA Group adopts a multi-vector evaluation standard to ensure the fair selection of vendors.
Quality (vendor meets demands for quality)
Cost (vendor is competitive)
Delivery (vendor delivers on time)
Flexibility (vendor can adapt to new technologies)
Position (vendor established mutual relationship of trust)
Development (vendor offers technological, developmental, and consultative approach)
Management (vendor has stable management)
Environment (vendor exercises concern for the environment)
Security (vendor maintains secrecy of important information)
CSR Guidelines for Business Partners
The ANA Group defines minimum compliance and voluntary CSR Guidelines for Business Partners, asking vendors to comply with these rules.
CSR Guidelines for Business Partners
Internal Implementation Structure

Voluntary CSR Measures

Vendor's Own CSR Standards

Human and Labor Rights Conditions

Compliance With International Human and Labor Rights Frameworks

Prohibition Against Child Labor
Prohibition Against Forced Labor
Compliance With Other Laws and Social Norms Related to Human and Labor Rights

Safety and Health

Consideration for Occupational Safety and Health at Workplaces

Compliance With Laws Related to Occupational Safety and Health

Environment

Environmental Impact Reduction Initiatives

Environmental Management System (EMS) in Installed and Operating
Hazardous Chemical Management Based on Local Laws, Etc.
Greenhouse Gas Emissions Reduction Initiatives
Appropriate Waste Disposal, Reduction, and Recycling
Procurement Favoring Materials With Low Environmental Impact
Compliance With Other Environmental Laws and Necessary Government Approval Procedures

Fair Trade and Ethics

Fair Business Activities That Comply With Social Norms

Compliance With Laws Related to Unfair Competition
Prohibition Against Granting/Receiving Inappropriate Benefits To/From Governments, Customers, Etc.
Respect for Intellectual Property
Exclusion of Anti-Social Forces

Quality and Safety

Product Quality and Safety Assurance

Compliance With Legal Safety and Labeling Standards
Establishment of a Quality Management System
Conscientious Response to Consumer and Customer Contacts

Strengthening Information Security

Appropriate Management and Protection of Private/Secret Information

Prevention of Private/Secret Information Leakage, Loss, Modification, Etc.
Defense Against Computer/Network Threats
Food Supply Chain Management
In January 2017, the ANA Group became the first Japanese company to join the Bluenumber Initiative. Bluenumber, operated by the Bluenumber Foundation in New York, is a global initiative aiming to create a supply chain platform for food.
Interest in food safety and traceability, environmental conservation in production processes, and respect for human rights related to production activities is rising around the world. We intend to use the Bluenumber platform for in-flight meals and other food-related activities to strengthen our food supply chain management.