Basic Approach
The ANA Group aims to grow sustainably to become the world's leading airline group, enhancing the corporate value and co-existing with society. The Group also aims to create social and economic value through communication with our stakeholders and responsible business activities.
We will promote CSR activities that meet global standards and diligently enforce compliance and risk management, focusing on safety as the foundation of our business.
We will focus on material issues that maximize positive effects and minimize negative impacts on society and the ANA Group.
We will make continuous efforts for improvement by proactively disclosing our activities and their impact, and seek to understand the demands and expectations of society through conversations and collaboration with stakeholders.
Major Activities by Stakeholder
CSR Activity Themes by Stakeholder Group
Stakeholder Group
Major Themes of CSR Activities
Pursuit of safety and security / Respect for human rights
Customers
Improvement of safety, convenience, and comfort
Provision of universal services
Shareholders and investors
Accomplishment of value creation targets, issuance of shareholder returns
Timely and appropriate disclosure of information
Business partners
Fair operating practices
Promotion of CSR activities through the supply chain
Employees
Cultivation of human resources
Promotion of diversity and inclusion
Environment
Control CO2 emissions and other environmental burdens
Communities
Stimulating economies through regional revitalization, performing social contribution activities in the areas where we operate
Emphasizing ESG and Contributing to SDGs
The ANA Group takes Environment, Social, and Governance (ESG) into consideration in all our corporate social responsibility (CSR) activities. We have identified the key material issues - Environment; Human Rights and Diversity & Inclusion (D&I); and Regional Revitalization - and established medium-term goals for each. By working towards achieving these goals, the ANA Group contributes to Sustainable Development Goals (SDGs) .*1
*1.

SDGs are 17 goals adopted by the United Nations in September 2015 to encourage sustainable development of society. They identify global issues that must be solved by the year 2030 and calls on corporations to help attain these goals.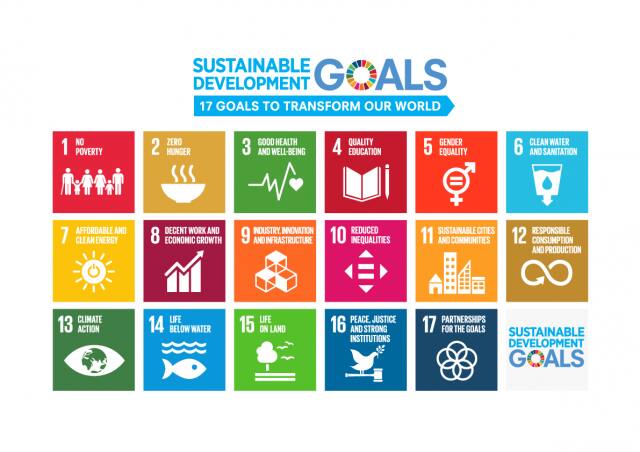 2017-2020 Medium-term CSR Goals E(Environment)
materiality
Initiatives
Environment
Initiatives to reduce CO2 emissions

Aircraft Operations

Improve fuel efficiency by adopting fuel-efficient equipment and modifying flight methods
Consider measures (credits and purchasing bio jet fuel) to meet the International Civil Aviation Organization (ICAO)
agreement

Ground Energy

Reduce energy use in accordance with the Energy Conservation Act (Goal: 1% vs previous year)
2017-2020 Medium-term CSR Goals S(Social)
materiality
Initiatives
Human Rights

Executing United Nations' Guiding Principles on Business and Human Rights

Conduct ongoing assessment of potential risks made by the ANA Group
Take appropriate actions to address risks and tracking evaluations of effectiveness
Proactively disclose information through websites and other methods
Establish a relief system for people who suffered human rights violations

Diversity & Inclusion(D&I)

Customer diversity initiatives

Provide world-class (universal) services that are comfortable for all customers

Promoting employee D&I

Promote active participation in the workplace by a diversity of employees
Develop work style reforms and environment conducive to innovation (creating new value)

Regional Revitalization

Regional revitalization initiatives

Establish a system for collaboration with both national and local governments, and non-profit and other organizations
Implement regional revitalization initiatives that enhances synergic effects of the entire ANA Group

Social initiatives

Implement next-generation education programs in Japan and abroad
Implement social initiatives at overseas locations
Social Responsibility as a Global Company
In 2008, the ANA Group joined the United Nations Global Compact. The UN Global Compact is a movement joined voluntarily by companies and organizations to build a global framework for achieving sustainable growth.As we draw closer to the Japan-hosted Rugby World Cup 2019 and the Tokyo 2020 Olympic and Paralympic Games, Japanese companies will gain greater international attention. The ANA Group remains committed to global CSR activities that create economic and social value, reflecting an understanding of opportunities and risks identified through communications with our stakeholders in Japan and around the world.
CSR Promotion System
We have established a Group CSR /Risk Compliance Promotion Committee lead by the president and CEO of ANA Holdings and the participation of internal board members and auditors based on the ANA Group CSR Guidelines. The committee conducts discussions on important issues related to CSR, develops key policies, and promotes relevant activities. In addition, a CSR Promotion Officer (CPO) is assigned at each Group company and a CSR Promotion Leader (CPL) at each Group company and department to promote CSR activities at the company and department levels. We also maintain communications with stakeholders knowledgeable about social issues, such as domestic and international NGOs and NPOs, and international organizations such as the UN Global Compact, to understand social expectations for the ANA Group and reflect such understanding in our activities.
In fiscal year 2016, we held seminars with presentations by third party CSR experts at the Group CSR Promotion Committee and a meeting of the presidents of all Group companies to promote understanding under the theme of "The Opportunities and Risks Faced by Each Business."
PDCA Cycle for CSR Promotion:
The case of ANA HOLDINGS INC.
"Plan: Build foundations of activity" - Decide on policies / plans and set targets under the leadership of the CEO and CCPO*2. "Do: Advance various activities / Disclose information" - Practice accountability through various disclosure activities. Promote groupwide measures. "Check: Analyze various evaluations and indexes" - Conduct employee awareness surveys. Conduct e-learning. Present ANA's Way AWARDS. "Action: Identify issues" - Clarify priority issues from long-term views and ESG perspective. Dialogue with stakeholders.
The case of Group companies and department / offices
"Plan: Build foundations of activity" - Decide on targets and implement measures based on groupwide policies under the leadership of CPO / CPL. "Do: Advance various activities / Disclose information" - Conduct activities in various organizations. Implement education and awareness-raising activities. "Check: Analyze various evaluations and indexes" - Advance risk assessment activities. Conduct internal / external audits. "Action: Identify issues" - Reflect in the next corporate plan.
*2.

CCPO: Cheif CSR Promotion Officer
Promoting Group-Wide Awareness
Social Responsibility Guidelines
We have established the Social Responsibility GuidelinesPDF Opens in a new window.In the case of an external site,it may or may not meet accessibility guidelines. that all Group executives and employees must follow to strengthen the foundation of our CSR.
Guideline materials, training tools, employee surveys and other methods are being used to promote awareness of the guidelines throughout the Group.
Social Responsibility Guidelines
We will provide peace of mind and satisfaction to customers and society.

We will increase peace of mind among customers and society at large by prioritizing safety in all our business processes.
We will improve our services and products by listening to and responding to our customers' voices and the demands of society with sincerity.

We will comply with the laws and regulations of each country and region.

We will commit to accurately understand the laws and regulations relevant to our operations and act in accordance with them.
In addition to following corporate policies and rules, we will seek to be fair and sincere in all our actions.
All business transactions and relationships will be in accordance with laws and regulations, as well as social standards.

We will manage information appropriately and communicate with integrity.

We will provide accurate information in a timely manner that is easy to understand from the perspective of our customers and other stakeholders.
We will make continuous efforts to prevent the disclosure, leakage or loss of confidential information.
We will refrain from speech and conduct that may damage the trust that customers and society has in the ANA Group.

We will respect human rights and diversity.

We will commit to ensuring that human rights are always respected in the ANA Group's corporate activities.
We will respect the culture, customs, history, values and social norms of each country and region, and act with consideration for the interests of all concerned parties.
We will contribute to the creation of a healthy and comfortable environment without harassment, where all employees respect each other's individuality and diversity.

We will act responsibly for the environment

We recognize that the ANA Group's business activities impact the environment, and that environmental initiatives are essential to our survival.
We will act responsibly for the environment in all aspects of our operations (such as CO2 reduction, saving resources, reducing electricity, paper usage and garbage.)

We will help build a positive society.

Each member of the ANA Group will take an interest in the issues faced by our local and international communities and contribute to society.
CSR Initiatives in the Supply Chain
The ANA Group recognizes that it is important to promote CSR not only by the ANA Group, but also by the entire supply chain (suppliers, manufacturers, contractors, etc.) We have developed the ANA Group Procurement Policies that are based on the international social responsibility guidance standards, ISO 26000, and have further developed Supply Chain Management Policies and CSR Guidelines based on them and shared the policies with our business partners.
In fiscal year 2016, we engaged in activities to promote CSR along the supply chain, including a monitoring survey based on the CSR Guidelines with 170 transaction partners.
The ANA Group's Procurement Policies consist of Basic Policies, Purchase Transaction Principles and Supplier Management Policies.

1. Basic Policies
Purchase decisions must be economically rational decisions made fairly and objectively based on the quality of the service or product.
Procurement should be sourced fairly and transparently from Japan and abroad through transparent and simple procedures to build mutual trust and complementary relationships with our business partners.
We comply with relevant laws and regulations for all procurements in accordance with ANA Group's basic approach for CSR and corporate ethics, ensuring conservation of resources and environmental protection, as well as upholding human rights. All transaction partners are requested to support the ANA Group's initiatives.
2. Purchase Transaction Principles
Fair and impartial transactions based on economic rationality
Purchase transaction decision standards
Thorough pursuit of optimal costs
Acquire competitive estimates in respect for the principle of free trade
Openness
Provide open and fair opportunities for new business partners
Transparency
Fair disclosure of information necessary for doing business, and disclosure of reasons to businesses who are not chosen
Legal compliance
Comply with all relevant laws and written contracts
Ethical transactions
Prohibit reciprocal transactions, arbitrary preference for specific bidders, personal gain, gifts and entertainment, exceeding appropriate levels
Environment
Ensure environmental protection as a prerequisite for business transactions, confirm the environmental protection practices of business partners
Human Rights
Confirm that business partners do not engage in forced labor or child labor, and that health and safety is assured
Confidentiality
Protect any confidential information obtained through business dealings
3. Supplier Management Policies
Business partner selection criteria
We use a multifaceted evaluation system for fair and equitable selection of business partners.
Quality: Assure quality that meets requirements
Cost: Ability to offer competitive pricing
Delivery: Observance of delivery schedules
Flexibility: Ability to respond to changes such as with IT applications
Position: Mutual trust
Development: Capabilities in technology, development and making proposals
Management: Stable foundation of business management
Environment: Environmental considerations
Security: Protect confidentiality of important information
CSR Guidelines
We have developed comprehensive CSR Guidelines for our business partners addressing minimum requirements and items to be addressed voluntarily.
CSR Guidelines
General
(Internal promotion system)

Voluntary CSR initiatives

Formulation of our company's CSR standards

Human Rights & Labor Conditions

Respect for and adherence with international standards regarding human rights and labor

Prohibition of child labor
Prohibition of forced labor
Compliance with laws and social standards regarding human rights and labor

Health and Safety

Attention to health and safety in the workplace

Compliance with laws and regulations regarding occupational health and safety

Environment

Initiatives to reduce environmental impact

Develop and implement an environmental management system (EMS)
Manage hazardous chemicals in accordance with local laws and regulations
Carry out initiatives to reduce greenhouse gas emissions
Reduce and appropriately dispose waste,and promote recycling
Perform preferential procurement of materials with low environmental impact
Comply with environmental laws and regulations, and apply for relevant government authorizations

Fair Trade / Ethics

Fair business activities that respect social norms

Comply with laws and regulations prohibiting unfair competition
Prohibit giving or receiving inappropriate benefits in engaging with government officials and customers.
Respect intellectual property
Eliminate antisocial forces

Quality / Safety

Guarantee quality and safety of products

Comply with regulatory safety and labeling standards
Establish quality control systems
Respond accurately to inquiries from consumers and customers

Information Security

Appropriate management and protection of personal and confidential information

Prevent leakage, loss, falsification, etc. of personal and confidential information
Protect against cyber threats
Environmental and Social Activities Policy
Through our motto of "Trustworthy, Heartwarming, Energetic!" we will support efforts to build better people, better regional communities, and a better planet so that we may build a better future.
Environmental Activities
Building a Better Planet
Social Contribution Activities
Building Better People and Communities
Conducted Through Our Business

Air

Activities to reduce our impact on the environment, with the focus on reducing the CO2 emissions of our core air transport business.

Becoming the Wings of Society

Activities to increase the appeal of people and communities around the world by connecting them through air transport.

Conduct with Communities As Corporate Citizens

Land and Sea

Environmental activities which are conducted in conjunction with local communities.

Fostering Children's Wings

Activities which foster the dreams of children around the world and encourage them to forge their own paths to the future.
In-flight meal Supply Chain management
In January 2017, the ANA Group became the first Japanese company to take part in New York based Bluenumber Foundation's global Bluenumber Initiative to construct a food supply chain platform.
At a time where there is heightened interest globally in the safety and traceability of food, environmental protection in the production process, and respect for human rights of people involved in production, we are committed to strengthening the supply chain management of food by utilizing this platform in food-related areas such as in-flight meals.
Producer and vendor information mapped on the Bluenumber Initiative administration site