Basic Approach to ANA Group ESG Management
The ANA Group is committed to addressing the four material issues of the environment, human rights, regional revitalization, and diversity and inclusion (D&I) through our business activities as identified in our ESG management, which takes into consideration the environment (E), social (S), and governance (G). By simultaneously creating social value and economic value, we aim to achieve a sustainable society and increase our corporate value.
Specifically, we are promoting ESG Management throughout the ANA Group through the cycle shown below.
We will demonstrate sound business management by conducting all of our business activities with the utmost priority on safety and under strict compliance, while ensuring thorough risk management that enables accurate and immediate action to be taken in times of crisis.
Assess social needs through dialogue with stakeholders, align them with management strategies, evaluate their impact on business and society, and apply them in our initiatives.
Address important issues with solutions that have been identified through impact assessments, and work toward achieving a sustainable society through our business activities.
Disclose the progress of our initiatives on our website, conduct regular discussions with stakeholders based on the disclosed information, and report on the progress and confirm the validity of our initiatives.
Furthermore, the ANA Group has participated in the United Nations Global Compact since 2008, in which individual companies and groups voluntarily participate in creating a global framework to achieve sustainable growth. We promote initiatives from a global perspective by sharing information and collaborating with other participating companies.
ESG Management Implementation Structure
The ANA Group established the Group ESG Management Promotion Committee in accordance with Group ESG Management Promotion Committee Regulations. This committee, which operates under the guidance of the president and under the chairmanship of the director in charge of corporate sustainability (CEPO: Chief ESG Promotion Officer), consists of ANA HOLDINGS INC. and group company directors, executive officers, and the full-time Audit & Supervisory Board members of ANA HOLDINGS INC. The committee discusses core policies and measures related to ESG management, including risk management and compliance.
In addition, important issues directly related to management are discussed at the Group Management Committee and reported to the Board of Directors and the Board of Corporate Auditors. Based on these regulations, each Group company has appointed an ESG Promotion Officer (EPO) as the person responsible for promoting ESG management and participates as a member of the Group ESG Management Promotion Committee, and each Group company and department has an ESG Promotion Leader (EPL) to lead the ESG activities of their respective organization.
Matters discussed, resolved, and reported at the Board of Directors, Group Management Committee, and Group ESG Management Promotion Committee are shared and implemented throughout the entire Group in close collaboration with EPOs and EPLs. We also hold EPL meetings twice a year to share information in a comprehensive manner and promote initiatives at each Group company and department.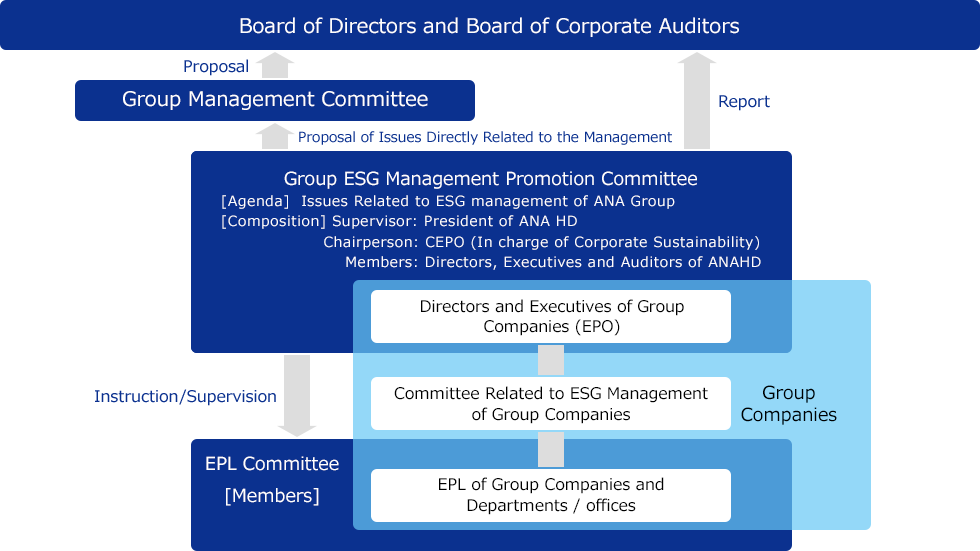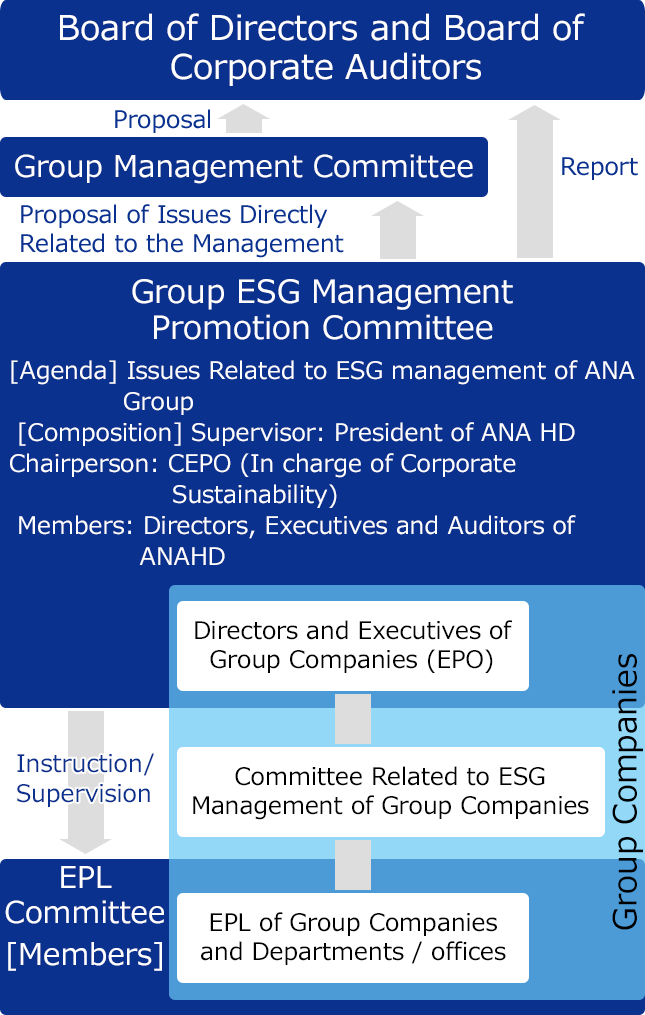 In addition, under the system shown above, ANA Holdings and each operating company and department promotes ESG management by going through the PDCA cycle (below).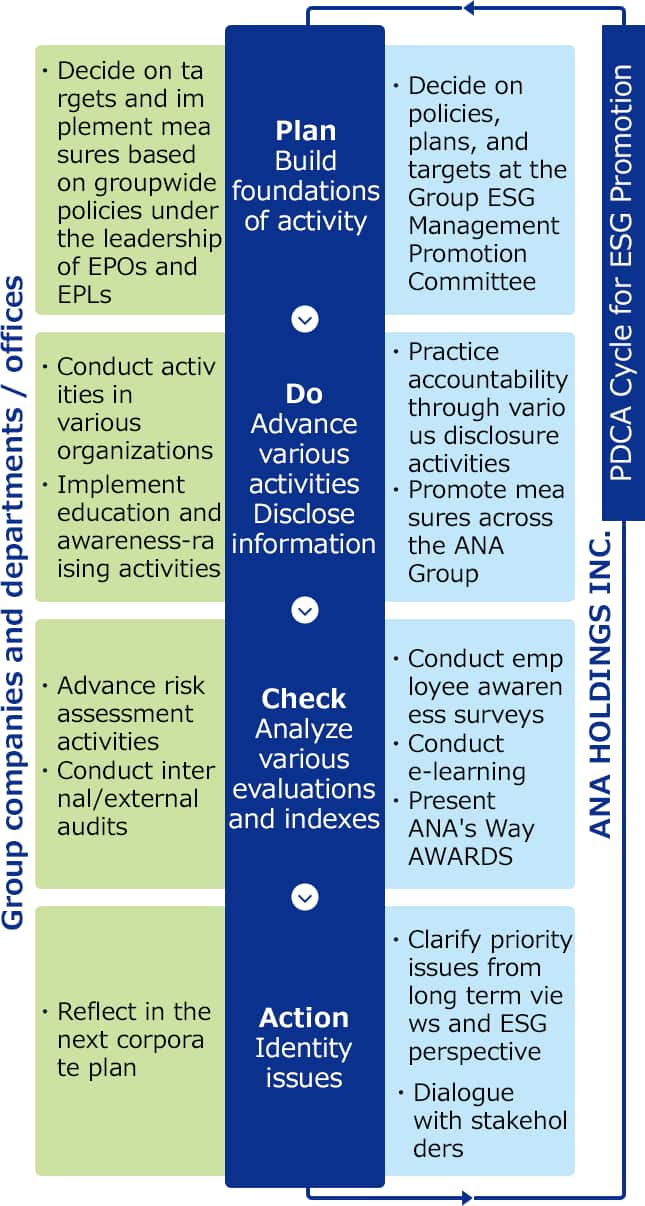 Promotion of ESG Management and Contribution to SDGs
The ANA Group promotes ESG management that considers Environment, Social, and Governance. By simultaneously creating Social Value and Economic Value through our business activities, we aim to achieve a sustainable society and increase our corporate value, while also contributing to the achievement of SDGs.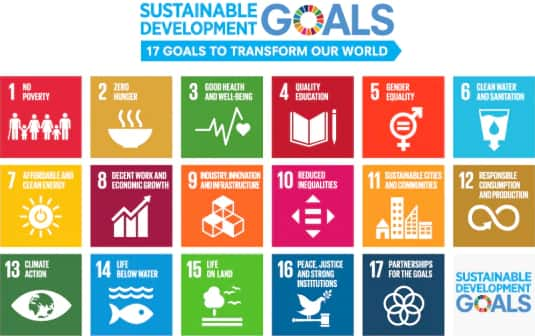 Internal Awareness and Dissemination Activities
The ANA Group has been conducting in-house training, seminars and e-learning by job levels to help deepen the understanding and dissemination of SDGs and to enable every employee to take ownership of them. The SDGs implemented by each company and business site are reported in internal media such as internal newsletters, which help in creating ideas.
We are also creating opportunities for passengers to acknowledge about SDGs through cabin attendants wearing SDG badges on ANA Group flights.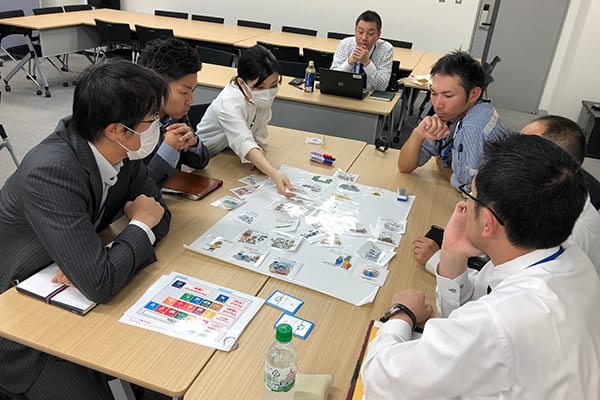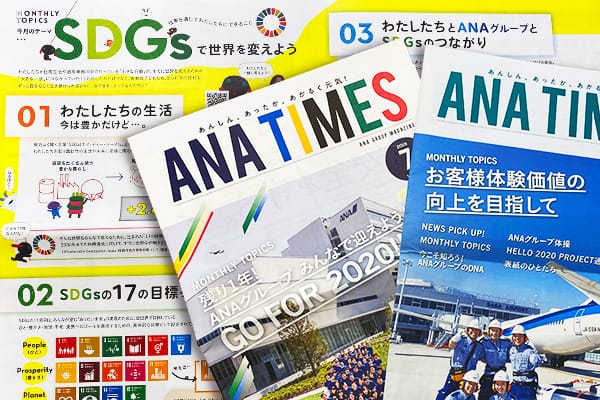 Social Responsibility Guidelines
To further strengthen the foundation of ESG management, the ANA Group has established the Social Responsibility Guidelines which all Group employees must follow, including transferred, part-time and temporary employees.
As a code of conduct that embodies"contributing toward a better society in good faith and fairness," we seek to promote understanding and disemminate the concept throughout the company by educating employees.
The top management of each ANA Group company is leading by example in promoting the concept thoroughly within their companies, and encourages business partners to follow suit.
Social Responsibility Guidelines PDF Opens in a new window.In the case of an external site,it may or may not meet accessibility guidelines.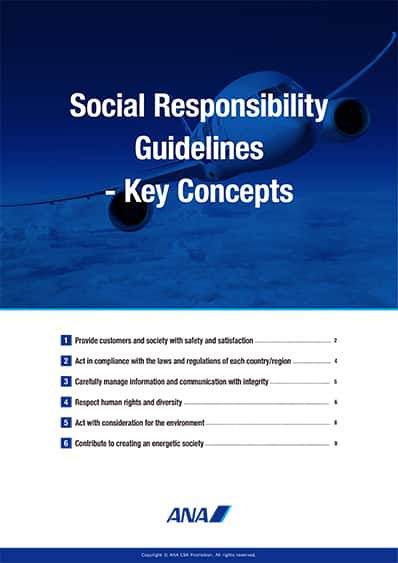 1. Provide customers and society with safety and satisfaction
We will increase peace of mind among customers and society at large by prioritizing safety in all our business processes.
We will improve our services and products by listening to and responding to our customers' voices and the demands of society with sincerity.
2. Act in compliance with the laws and regulations of each country/region
We will commit to accurately understand the laws and regulations relevant to our operations and act in accordance with them.
In addition to following corporate policies and rules, we will seek to be fair and sincere in all our actions.
All business transactions and relationships will be in accordance with laws and regulations, as well as social standards.
3. Carefully manage information and communication with integrity
We will provide accurate information in a timely manner that is easy to understand from the erspective of our customers and other stakeholders.
We will make continuous efforts to prevent the disclosure, leakage or loss of confidential information.

Confidential information: Information related to individual customers, information related to safety and security, information related to employees, information related to sales strategy and management before publication
Including the act of buying and selling stocks, etc. before the inside information obtained in the business is officially released.

We will refrain from speech and conduct that may damage the trust that customers and society has in the ANA Group.

Including writing to SNS during and outside business hours and conversations during commuting
4. Respect human rights and diversity
We will commit to ensuring that human rights are always respected in the ANA Group's corporate activities.
We will respect the culture, customs, history, values and social norms of each country and region, and act with consideration for the interests of all concerned parties.
We will contribute to the creation of a healthy and comfortable environment without harassment, where all employees respect each other's individuality and diversity.
5. Act with consideration for the environment
We recognize that the ANA Group's business activities impact the environment, and that environmental initiatives are essential to our survival.
We will act responsibly for the environment in all aspects of our operations (such as CO2 reduction, saving resources, reducing electricity, paper usage and garbage.)
6. Contribute to creating an energetic society
Each member of the ANA Group will take an interest in the issues faced by our local and international communities and contribute to society.
Environmental and Social Activities Policy
Through our motto of "Trustworthy, Heartwarming, Energetic!" we will support efforts to build better people, better regional communities, and a better planet so that we may build a better future.
Environmental Activities
Building a Better Planet
Social Contribution Activities
Building Better People and Communities
Conducted Through Our Business
Air
Activities to reduce our impact on the environment, with the focus on reducing the CO2 emissions of our core air transport business.
Becoming the Wings of Society
Activities to increase the appeal of people and communities around the world by connecting them through air transport.
Conduct with Communities As Corporate Citizens
Land and Sea
Environmental activities which are conducted in conjunction with local communities.
Fostering Children's Wings
Activities which foster the dreams of children around the world and encourage them to forge their own paths to the future.
Sustainability-Linked Bonds
ANA holdings issued sustainability-linked bonds in June 2021 further reinforcing the company's commitment to its environmental, social and governance (ESG) goals.
In order to achieve sustainable growth and to create both social and economic value, ANA Group has established a corporate strategy that focuses on ESG management. ANA Group identified the Environment, Human Rights, Diversity and Inclusion (D&I) and Regional Revitalization as its four main pillars and has incorporated them into its corporate strategy.
Click here for details of Sustainability-Linked Bonds Opens in a new window. External sites may not meet accessibility guidelines.