The ANA Group actively supports children's ability to dream and create their own futures through various education and sport activities for children both in and outside Japan. In addition, Group employee volunteers conduct ANA Aviation Classroom and ANA Virtual Flight activities at airport events and at schools, hospitals, etc. Through these activities, as well as sightseeing flights and invitations to tour the ANA Maintenance Center at Haneda Airport, the ANA Group helps foster the "wings" that are within the next generation.
Supporting Asian Students Studying in Japan
We at the ANA Group believe that it is our responsibility to contribute to the peace and prosperity of Asia, and we are providing a broad range of support to nurture those persons living in countries across the continent. In particular, we hold various events in Southeast Asia to support children in the region and their dreams for the future, and around 180 children participated in such events in FY 2016. Moving forward, we plan to continue carrying out these activities to support young individuals.
The Okazaki Kaheita International Scholarship Foundation
ANA's second president Kaheita Okazaki devoted himself to improving relations between Japan and China, traveling to the People's Republic in 1962 as the head of a trade delegation which signed a key Japan-China trading agreement. Mr. Okazaki also became a good friend of Zhou Enlai, China's first prime minister, and played an important role in the normalization of diplomatic relations between the two countries in 1972.
The Okazaki Kaheita International Scholarship Foundation was established in 1990 to honor Mr. Okazaki's wish to support Asian students' education in Japan, and assists students from China, Thailand, Malaysia, Philippines, Indonesia, Vietnam, Myanmar and Taiwan. While studying in Japan, the students visit important national heritage sites such as Kyoto, Nara, Ise, and Hokkaido to add to their academic studies and understand Japan as a whole. Eleven children were granted scholarships in FY 2016.
Between 1990 and 2013, the foundation welcomed 107 students in total and the graduates have gone on to fill roles in education and business in Japan, Europe, the United States, and other countries. As Kaheita Okazaki hoped, these people are actively contributing to development and helping to maintain good relations between Asian countries and Japan. In 2013, the foundation welcomed 10 students as the 23rd annual scholars.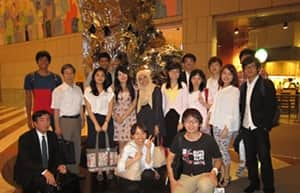 Donating toys to elementary schools in Myanmar
In January 2016, in cooperation with the Tokyo Toy Museum and the NPO Bridge Asia Japan, we delivered books and toys to elementary schools in Myanmar.
Myanmar is said to have a strong affinity towards Japan. After the Great East Japan Earthquake, the amount of the financial relief aid Myanmar provided to Japan in proportion to its own population was large in comparison with other countries. At the same time, this is a country with a good number of impoverished farming villages that do not have electricity, and wherein many children have no books other than textbooks made of coarse paper. In light of this, we have made it our goal to provide the children living in these farming villages with books filled with colorful pictures and illustrations which will enrich their creativity and toys which will nurture their sense of achievement. Out of this desire, we held a ceremony at Aye Yeik Thar Monastic Education School in the outskirts of Yangon. The children were very interested in the mini-library, which was filled with around 250 picture books and roughly 20 toys, including a set for the game Go, a strategic game played with black and white counters on a wooden board. The children enthusiastically played with the toys after hearing lectures on how to play with them from professional Go players and toy experts.
The ANA Group plans to continue to deliver books and toys to 100 elementary schools in Myanmar over the next three years.
Support of Children's Sports in Asia
Donation of Soccer Uniforms to Children in Myanmar
On June 28, the Yanmar Cup charity match between the Myanmar national men's soccer team and the J-League soccer team Cerezo Osaka was held in the city of Yangon. This match was sponsored by the Nippon Foundation to commemorate the 60th anniversary of diplomatic relations between Japan and Myanmar, and the ANA Group provided support. The goal of this match was to build lasting friendships and strengthen the relationship between the two countries through sport and part of the money that was raised was used to support sports activities and education for children in Myanmar's agricultural regions.
On the day after the charity match, ANA donated soccer uniforms to children in elementary and junior high schools in the Irrawaddy Delta, an area located approximately three hours south of Yangon by car which had been devastated by Cyclone Nargis in 2008.
After the donation ceremony, the children put on the uniforms and took part in soccer training sessions. These children listened intently to the technical instructions of the Japanese soccer coaches and left the adults in awe as they demonstrated their newly acquired skills during a match at the end of the session.

Sponsoring Japanese Speech Contest in Cambodia
The ANA Group sponsored the 17th Japanese Speech Contest for Cambodian university students, which was held in Phnom Penh, Cambodia. The contest was jointly organized by the Cambodia-Japan Cooperation Center (CJCC), the Embassy of Japan, the Japan Society, and the Japanese Chamber of Commerce & Industry. Fifteen students selected from a total of 270 students across the nation participated in the competition. In line with the business expansion of Japanese companies in Cambodia, the number of children learning Japanese in the country has been increasing.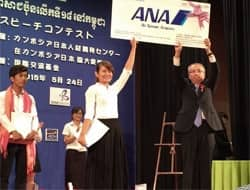 Holding ANA Aviation Classes
Conducting ANA Aviation Classes globally
We engage in activities to communicate to children the importance of having and pursuing dreams by introducing jobs at the ANA Group, such as pilot and cabin attendant. We conducted a total of 33 aviation classes both inside and outside of Japan in FY 2016.
In July 2016, we held an ANA Aviation Class at ANA's training facility in Shimomaruko, Tokyo for approximately 80 students in grades 3 to 6 at neighboring elementary schools as a special event during summer vacation.
Around 20 employees attending as volunteers spoke passionately not only about their jobs but also about the aspects of their work they find meaningful and challenging, what makes them happy, what they have done to make their dreams come true, and so on. A handmade model of a cockpit built by ANA Group employees was also on display to make it easier for the children to picture the sorts of things involved in the jobs. The children had the chance to don pilot hats and sit in the cockpit as well as pretend to be cabin attendants by reading out in-flight announcements. Our training facility, which is usually very quiet, that day rang out with the happy and enthusiastic shouts of smiling children.
The ANA Group will continue to encourage children to try out new things and acquire skills to pave the way for a bright future.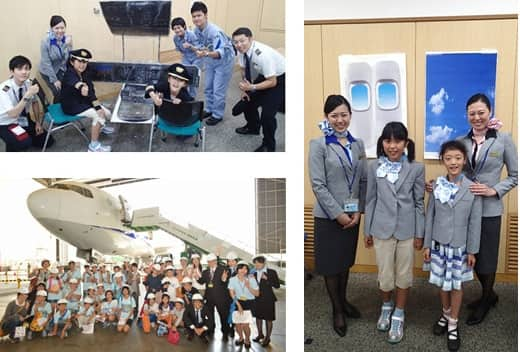 Other Initiatives
Inviting Children in Japan and the United States to a Japan-US International Exchange Event and a Scenic Flight on a Boeing 787-9
Ahead of the commencement of regular domestic flights on the Boeing 787-9 scheduled on August 7, 2014, the ANA Group invited students both in Japan and the United States—who bear responsibility for future relations between the two countries—to participate in a Japan-US international exchange program and take the world's first Boeing 787-9 scenic passenger flight on Monday, August 4.
This event was held with the aim of providing the children with an opportunity to acquire skills to take on new challenges and pave the way for a bright future while deepening cross-cultural understanding and communication. On this scenic flight, cabin attendants wearing the new uniform served special cookies in the shape of airplanes, making it a special flight for the children (the next generation), who got to experience the next-generation airplane while being served by cabin attendants wearing the next-generation uniform. The children also had an opportunity to have their photo taken wearing new kid's-size cabin attendant and pilot uniforms as part of this special flight.
At the end of the event, students from Haneda Elementary School sang "Edelweiss" in English and the student representatives from both Japan and the US exchanged words of appreciation and gifts.
The ANA Group will continue its unique efforts to help children develop the "wings within themselves" in the future.