An Airline Group Representative of Japan
Traditional Japanese charms and tourism resources are now attracting global attention. On the other hand, Japan faces urgent concerns such as the depopulation of regional cities and fears over the decline of traditional industries. As a matter of course, we will help to achieve the Japanese government's target of attracting more than 40 million overseas visitors to Japan by 2020. In addition, we intend to join forces with the Japanese national and local governments to be a bridge that joins Japan's values to the world. Doing so will allow us to fulfill our obligation to pave the way for ANA's bright future as a company that was nurtured in Japan.
Spreading Japan's Appeal Worldwide
ANA was founded in 1952 based on a pledge to rebuild Japan's air transportation industry through efforts led by the Japanese people. Ever since, ANA has advanced in step with Japan's growth, and it therefore believes that it has an obligation to contribute to the revitalization of Japan's society and economy. We have continued to spread the word globally about Japan's appeal from many different angles using approaches that are unique to ANA.
The "IS JAPAN COOL?" website is designed to stimulate demand for inbound travel to Japan. Through this website, we take an in-depth look at the attractive qualities of Japanese culture and Japan's distinctive cities from our unique vantage point, and continuously share what we find with the world. Since its launch in February 2012, the website has generated significant interest by attracting more than 900,000 visitors.

Since September 2013, we have been deploying the Tastes of JAPAN by ANA project, which is designed to proudly introduce Japanese values to customers worldwide. Over a period of approximately four years, the project will successively highlight, under the themes of food, sake, sweets and culture, each of Japan's prefectures through in-flight meals and entertainment and other services. The project will successively feature three prefectures every three months until all 47 prefectures are covered by the end of March 2018.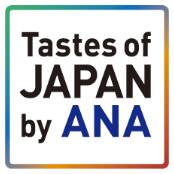 In November 2013, the ANA Group invested in the Cool Japan Fund Inc., a fund established in partnership between the public and private sectors under the leadership of the Ministry of Economy, Trade and Industry to widely support Japan's attractions from an array of aspects. This includes the launch in November 2015 of the ANA EXPERIENCE JAPAN, a platform for regional exchange connecting inbound tourists with local communities.
The ANA Group was also a contributor to increasing the number of inbound visitors to regional areas in Japan in FY 2016, with sales of domestic flight tickets in markets outside of Japan rising 24% year-on-year. To contribute to the government's new goal of 40 million inbound tourists by 2020, the year of the Tokyo Olympic and Paralympic Games, we have established a goal for the ratio of domestic tickets sold in markets outside of Japan, and we plan to roll out various initiatives using our unique strengths as an airline group.
Taking Japan's Best Directly Overseas through Distribution Reform
In 2009, in cooperation with the Okinawa Prefectural Office, we established a huge distribution hub linking Japan and China and Eastern Asia from our cargo base at Okinawa (Naha) Airport. From 2013, we have successively strengthened our partnership with Yamato Transport. Specifically, we have enhanced the quality of service by integrating the networks and expertise of both companies. Furthermore, we publicized our international cargo distribution network at the Okinawa Great Trade Fair business convention held in November 2014, which was attended by buyers representing 16 countries. With almost all major Chinese and Asian cities located within four hours of flight from Okinawa, products from all over Japan can be aggregated at Okinawa via Haneda. Okinawa (Naha) Airport is operating 24 hours and enables us to provide next-day delivery of all products to customers. By successfully developing an international high-speed delivery service, we will help sales channels overseas and reduce the costs of companies by shrinking their inventories, and thereby become a major driving force behind regional economy vitalization.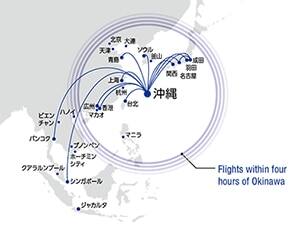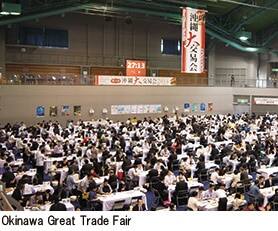 Using Human Resources and Expertise to Give Back to Society
A feature of the ANA Group is that we actively provide to communities the human resources and expertise we cultivate while going about our daily business activities. We have many initiatives such as dispatching to local government employees with expertise in skills, like product marketing and promotion, to review a community's tourism resources from a third-party perspective to find attractive tourism resources, and holding markets to showcase regional cuisine in the Tokyo metropolitan area and seeking new distribution routes. We recommend employees to take leaves of absence to undertake local government duties and there are currently four ANA Group employees working in regional cities as part of the Ministry of Internal Affairs and Communications' Regional Revitalization Corps.