Logging In and Procedures
Enter your 10-digit ANA Mileage Club membership number and web password in the relevant fields at the top of the ANA homepage, and then click Login. After logging in, you will be able to make use of our useful members-only features.

If you do not know your ANA Mileage Club membership number or web password, please see Trouble Logging In?.
Post-Login Members-only Page
After logging in, you will be able to see your profile as well as your mileage and ANA SKY COIN balances. To access the members-only features, click My Menu.
Select Logout to log out of your account. You can also log out by closing all of your browser windows. Even if the Keep Me Logged In box was checked, selecting Logout will completely log you out of your account. Please log in again in this case.
If you click the Refresh button on your browser while logged into your account, the mileage balance on the top page will be updated to the correct amount.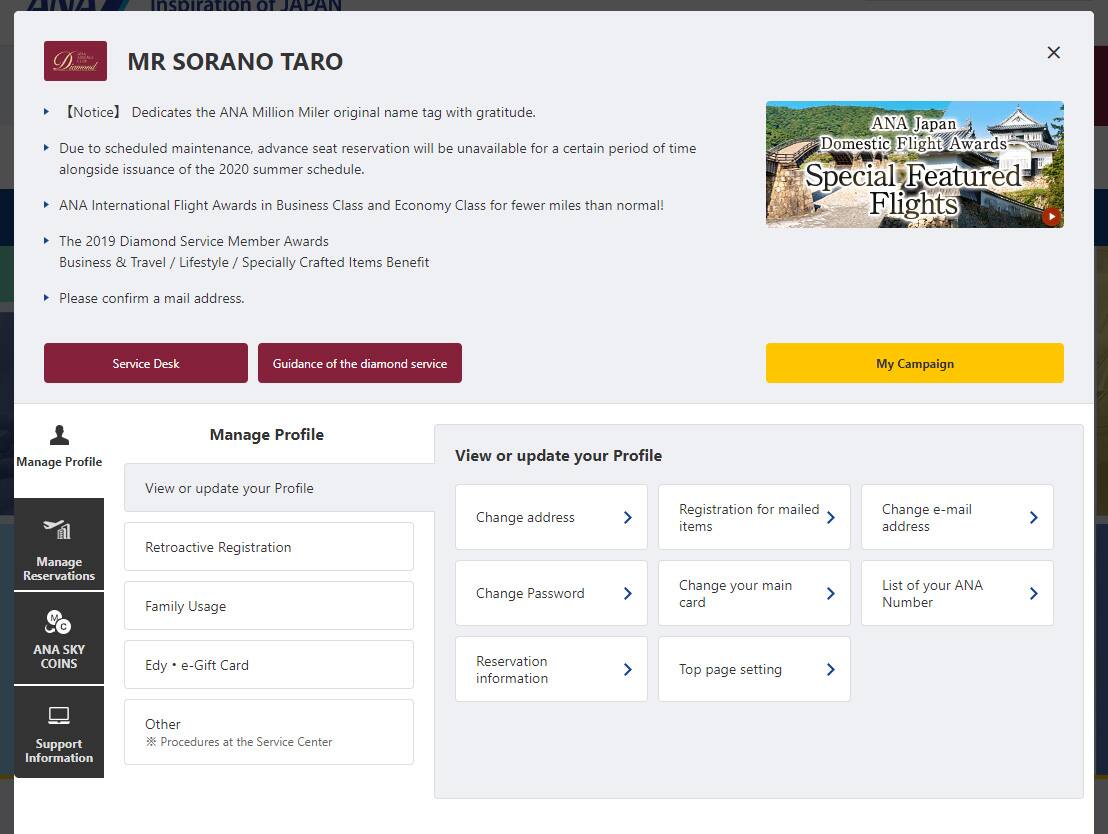 Basic Reservation Information Registration
Any basic information (e.g., your name, contact information) that you choose to register will be filled in automatically for flight ticket reservations. For Japan domestic flights, you can even register sectors, fares, and credit card details.
To register information, go to My Menu and click Reservation Information.
Mileage and ANA SKY COIN Balance Display
Simply clicking on Miles, ANA SKY COINS, Premium Points/Points on ANA, and Upgrade Points (all of which can be found under the member's name) will allow you to check more detailed information such as usage histories and expiration dates.
Upgrade Points are only displayed for Premium Members. Customers who have Upgrade Points from the previous year will be able to view those points as well.

Information about Members-only Campaigns
You can also view information about services and campaigns available to you. To do so, go to My Menu and click My Campaign.
Registering and Changing Information under Your Member Profile
Use "My Menu" for various procedures such as address change and Retroactive Mileage Registration.
Customers Who Are Logging In for the First Time
If you are logging into your account for the first time, please be sure to read the following information.

Customers who attempt multiple logins in succession with the incorrect password will be prevented from logging in for a certain period of time.
In order to protect your personal information, its is recommended to log out of the website completely if you are using a computer which may also be used by third parties.
When the My Menu button is displayed on the screen as shown above, the customer who is logged in can access their basic account information (reservations, mileage, user profile, etc.) as well as awards. To exit out of this state, either close all internet browsers or select Log Out.
When navigating from this website to the ANA Sky Tour website (operated by ANA Group tour services company ANA Sales Co., Ltd.), your login status is maintained in order to provide a more user-friendly experience.
By clicking the Refresh button, information that is displayed on the top page (mileage balance, etc.) after logging in will be updated.
Even if the Keep Me Logged In box was checked, selecting Log Out will completely log you out of your account. Please log in again in this case.
Please manage your ANA Number and passwords with due care. Changing your passwords frequently is recommended.
To do so, click My Menu on the ANA Mileage Club top page and select Change Password.
After a certain amount of time has passed since logging in (approx. 60 minutes), customers will need to re-enter their password in order to make reservations and use members-only features.
The displaying of the ANA Mileage Club top page as well as the transmission of membership numbers and passwords are protected by SSL (Secure Sockets Layer) encryption technology.
Customers will not be able to log in if they have cookies disabled.
In addition to the top page, customers will also need to log in when completing the following procedures.
When Making Reservations (Japan Domestic Flights/International Flights) as an ANA Mileage Club Member
When registering member information to make reservations for flight tickets.
When Using Members-only Features
When requesting mileage awards, registering/revising personal information, etc.
When submitting a Comment and Inquiry Form online.
Customers who log in with the Keep Me Logged In box checked will be able to continue using the ANA website-related services below when subsequently accessing the website. The Keep Me Logged In feature uses cookies. Please make sure to enable cookies with your web browser.

This feature takes logged-in customers back to their designated homepage when they click on the Return to Top Page button on any page.
Customers can set either the Domestic, International, or ANA Mileage Club top page as their homepage.
After selecting the setting, the corresponding page will be automatically displayed as the homepage.