Guide for facilities in Ho Chi Minh City Tan Son Nhat International Airport
Immigration

Baggage Claim

Customs
Elevator

Information

Currency exchange

ATM

Smoking Room

Railway

Monorail

Toilet

Lactation room

Telephone

Coin Lockers

Bus

Taxi

Boat

Passengers arriving at Tan Son Nhat International Airport

Arriving Passengers

Arriving Passengers
On level 1 of Terminal 2, there are immigration booths, the Visa On Arrival counter, and a transit counter. Passengers connecting in Vietnam for another country should check in at the transit counter and then take the escalator up to the departures floor. Arriving passengers and those connecting to Vietnam domestic flights should pass through immigration and then take the escalator or elevator down to the ground level of Terminal 2. On the ground level, there is the baggage claim area and customs. Please proceed through these accordingly. There is also a currency exchange booth, information counters, bus stops and taxi stands. Passengers connecting to Vietnam domestic flights should exit the building and head to the adjacent domestic terminal.
Please present your passport.
Carry-on luggage inspection.
Customers visiting a another country via Vietnam
Customers visiting another country via Vietnam need to complete the check-in at the transfer counter located at the middle of the arrival floor. Do not go through Immigration. After completing check-in, go upstairs from the back of the transfer counter to the departure (2nd) floor and proceed directly to the departure gate.
Customers transiting to domestic flights in Vietnam
Go to the Domestic terminal nearby after completing all arrival procedures. Complete check-in at the airlines' check-in counter which you are flying.
Precautions when traveling to Vietnam
It is necessary to show a return ticket or onward ticket to a third country at Immigration.
Passengers with an e-Ticket will need to show their e-Ticket Itinerary Receipt.
Images on PC and mobile phone screens are not accepted and entry will be refused, so be careful.
It is possible to apply for a visa upon arrival at VISA ON ARRIVAL counter, but only if you have obtained a visa acquisition from the Viet Nam's border control authority.
Check-in & Carry-on Inspection

Immigration

Customs / Security Check
Elevator

Information

Currency exchange

ATM

Smoking Room

Railway

Monorail

Toilet

Lactation room

Telephone

Coin Lockers

Bus

Taxi

Boat

Passengers departing from Tan Son Nhat International Airport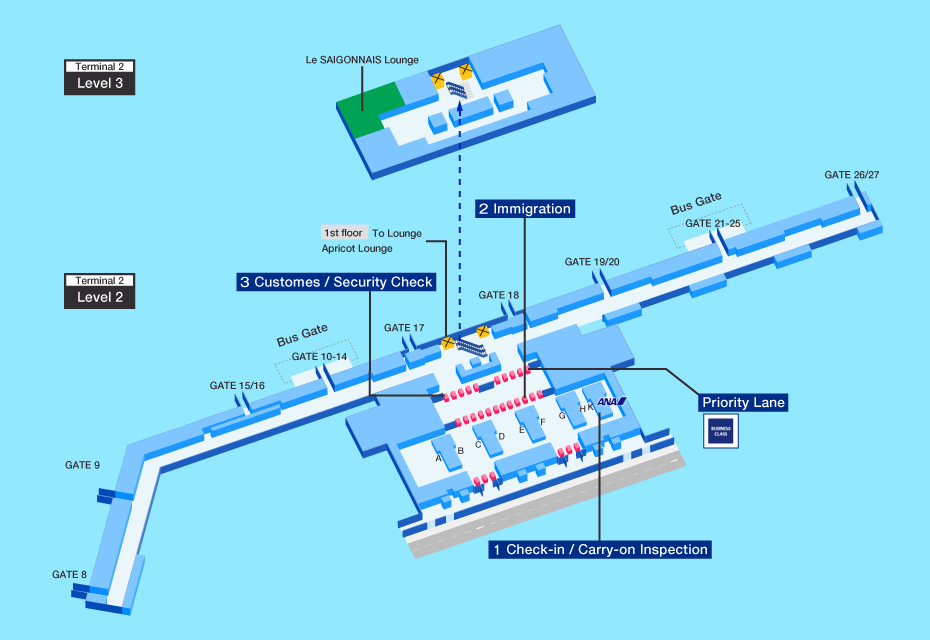 On level 2 of Terminal 2, there are check-in counters and baggage inspection checkpoints. After completing the necessary procedures, please proceed to immigration, customs, and then security or the priority security lane. Only Business Class passengers are eligible to use the priority lane. Passengers should then proceed to their boarding gate. Passengers who wish to use a lounge should use the Rose Lounge on level 2 or the Le Saigonnais Lounge on level 3.
Check-in & Carry-on Inspection
Please present your passport and boarding pass.
Please present your passport, boarding pass and immigration card.
Fast track security screening
Please show your boarding pass when using this service.