THE CONNOISSEURS MEMBER PRESENTS ANA's Healthy Menu
A healthy menu created by a member of THE CONNOISSEURS for your enjoyment
From October 1,2021, ANA will offer meals with fewer calories and less sugar, salt and fat in collaboration with a famous chef who is a member of THE CONNOISSEURS on its international flights.
The famous chef in question is Hideki Takayama, who was Asia Pacific champion twice at the Bocuse d'Or, a competition often referred to as the gastronomy equivalent of the Olympic Games.In addition to being the culinary director at Paris 1930 de Hideki Takayama - The Landis Taipei, he has also poured his energy into other projects such as developing healthy cuisine and meals for nursing homes for many years. Utilizing his wealth of experience, Chef Takayama has joined forces with ANA's chefs to create a special menu.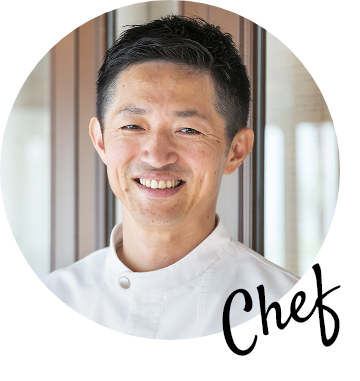 Culinary Director at French Restaurant
"THE LANDIS TAIPEI Paris 1930 de Hideki Takayama"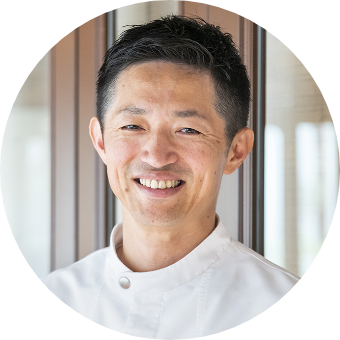 I have always wanted to bring the joy of eating in a restaurant into the aircraft cabin, and have finally realized this through this collaboration.
In addition to my work at the restaurant, I have been undertaking initiatives concerning food education,
meals for those with dysphagia, and more besides for many years now.
The motivation behind all of these initiatives is my desire to bring joy to others through the medium of food.
For this special range of in-flight meals, I wanted to create a selection of inclusive dishes that can be enjoyed by everyone.
Working in collaboration with the ANA team, I have selected the best possible ingredients and produced great-tasting,
nutritional dishes that are also low in calories. I very much hope that these will make for a delightful dining experience.

Makoto Shimizu   Executive Chef
Koji Otake  Western Cuisine Chef / Noriaki Aida  Pastry Chef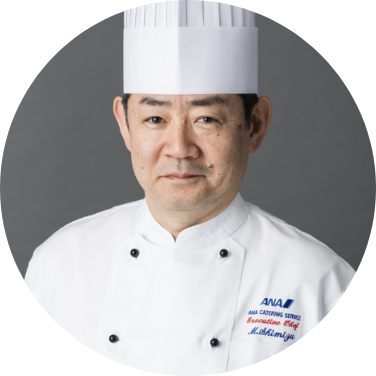 We have embarked on a collaborative project with Chef Takayama in light of rising demand for healthier meals and with the aim of taking our meal quality to greater heights.
After learning about the rigid restrictions in place in the unique on-board environment, Chef Takayama developed the meals with a focus on delivering delicious flavors and new gourmet experiences to customers. However, translating these ideas into actual dishes was an extremely difficult task.
As with the appetizer and main course, the dessert was the result of a trial and error process.
With this course being one of the most enjoyable parts of any meal, Chef Takayama focused on how he could reduce the sugar content while also creating a dessert as tantalizing in appearance and texture as any other.
Through working as a single team with a large selection of stakeholders both inside and outside ANA, Chef Takayama and the Japan Association for Diabetes Education and Care are delighted to be able to deliver these high-quality meals to those traveling with ANA.


Customers wishing to request this meal should apply
through the ANA website or by phone by the application deadline.
Please note that it is not possible to change or cancel a special meal request less than 24 hours before the scheduled departure of your flight. 
From October 1, 2021 onward, this collaboration menu will be served as the diabetic meal (DBML), low fat meal (LFML), low calorie meal (LCML) and low salt meal (LSML) on ANA-operated international flights departing from Japan. 
Meal containers and plating will vary by class of service. 
The meals above are made with the ingredients permissible for each SPML based on the QSAI(Quality & Safety Alliance Inflight Services)guideline.