Aiming for a Truly Global CSR Mindset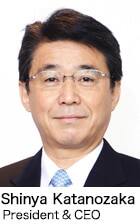 In January 2015, the ANA Group established a revised FY2014-2016 Medium-term Corporate Strategy and a long-term strategic vision for the next ten years as part of our determination to become an airline group that will be supported by customers around the world. CSR is a vital component of this strategy's foundation and the entire Group has committed to implementing measures that revolve around the Medium-term CSR Policy to enhance our corporate value. The long-term strategic vision outlines the goals that we will aim for in order to become a business group that can achieve sustainable growth and continue to satisfy the expectations of our stakeholders in the global community.
Japan will be hosting the Rugby World Cup in 2019 and the Tokyo Olympics and Paralympics in 2020, and these events represent significant business opportunities for the ANA Group as we increase our presence on the world stage. At the same time, these events will also attract the world's attention to Japanese companies, including ourselves. Our true value will be put to the test as the world determines whether or not we are worthy of remaining in the global marketplace. Based on our constant efforts to provide safety and security, we will strive to be more perceptive of the broad range of expectations that an ever-changing world has for the ANA Group and continue to deliver our unique value to society through our business activities.
I am committed to moving step by step toward realizing our mission statement of "helping to fulfill the hopes and dreams of an interconnected world."
April 1, 2015
Shinya Katanozaka
President and CEO