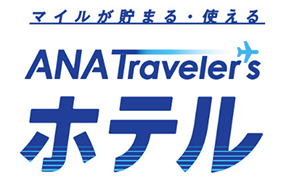 In addition to ANA's great fares, customers can use the ANA Traveler's hotel service to choose from a handpicked selection of deals on accommodations throughout Japan.
Mileage Accrual Eligibility
ANA Mileage Club members who reserve and use eligible accommodations through the ANA Traveler's hotel service.
Miles will be accrued automatically if customers register their 10-digit ANA Mileage Club membership number when making the reservation. Click here for details. (Text is available in Japanese only.)
*Standard room rate stays at some hotels are eligible for mileage accrual even if the reservation was made via online reservation services other than ANA Traveler's hotel. Please confirm with the relevant hotel when making the reservation. If the stay is eligible for mileage accrual, please present your ANA Mileage Club card when checking in at the hotel.
(Some discount room rates, including group discounts, and payments via coupons are not eligible.)
ANA Traveler's hotel reservations can be made 24 hours a day through the ANA website.
After the stay, approximately 1-2 months will be required for the miles to be credited to the mileage balance.
Retroactive Mileage Registration
Retroactive mileage registration is possible through the ANA Mileage Club Service Center in either of the following cases:
1) If an ANA Mileage Club member did not register for mileage accrual in advance.
2) If an ANA Mileage Club member reserved 2 or more rooms and another ANA Mileage Club member in one of the other rooms wishes to accrue miles for the stay.
In the first case, the ANA Mileage Club member must sent the receipt for the stay (must be issued in their name), together with a note which indicates the 8-digit ANA Traveler's hotel reference number as well as their name and 10-digit ANA Mileage Club membership number, by post. In the second case, the relevant ANA Mileage Club member who stayed in another room will need to send the documents described above. Such receipts and notes must be received within 6 months of the relevant stay.
*Refer to the website of the relevant hotel (via the List of Partner Hotels page) to check information related to mileage accrual, retroactive registration, etc., for reservations at ANA partner hotels (InterContinental Hotels Group (IHG) and ANA co-branded hotels, ANA Hotels, etc.) which were not made through ANA Traveler's hotel.
ANA Mileage Club Service Center

Kamata Post Office District, 144-8526

ANA Mileage Club Service Center
Attn: Retroactive Mileage Registration
Reservations and Inquiries
ANA Traveler's hotel