Gifting Lilies of the Valley to Patients Throughout Japan
The 67th Annual Lilies of the Valley Event was held during 2022. This ANA Group social contribution activity has been held every year since 1956.
In cooperation with the Japanese Red Cross Society, the ANA Group delivers flowers (Lilies of the Valley, representing happiness) to Red Cross Society hospitals and related facilities throughout Japan.
In addition to these flowers, sourced from the outskirts of Chitose City, Hokkaido, hospital patients also received flower-scented bookmarks.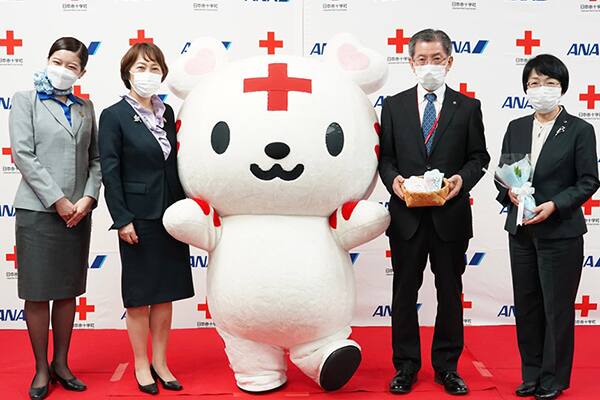 Cooperation with the Red Feather Community Chest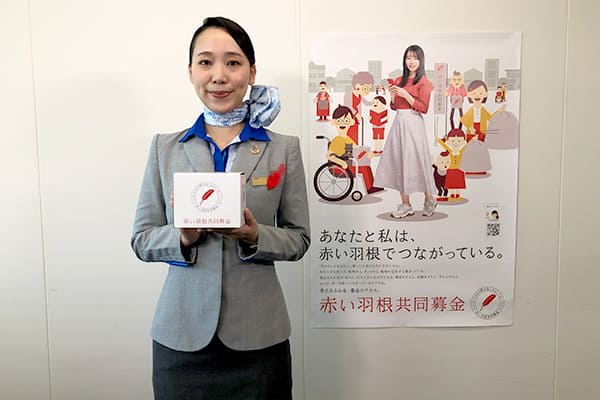 The ANA Group has been supporting public relations activities for the Red feather community chest and their fundraising campaigns. The Red feather community chest campaign has been a traditional social contribution activity of the ANA Group that has continued since 1962, and 2022 marked its 61th anniversary.
During the campaign, cabin attendants and airport ground staff wear a red feather pin to help raise funds for the community chest. We also use our domestic network to encourage airport passengers to make donations, such as placing donation boxes at the departure counters at domestic airports where the ANA Group operates, and at ANA Festa shops within the airports.
Supporting Infectious Disease Control at Medical Institutions
In 2020, we solicited mileage donations from ANA Mileage Club members to support healthcare professionals who are at the forefront of combating COVID-19. The number of miles received was donated to three medical institutions by purchasing the UV irradiation robot "UV Buster" that inactivates viruses and bacteria through Peace Winds Japan*, a specified non-profit organization.
Peace Winds Japan supports people in distress who are threatened by conflict, poverty or other turmoil. A JPF member organization, PWJ has a disaster-relief agreement with ANA, and is currently conducting relief efforts including those in the medical field amid COVID-19.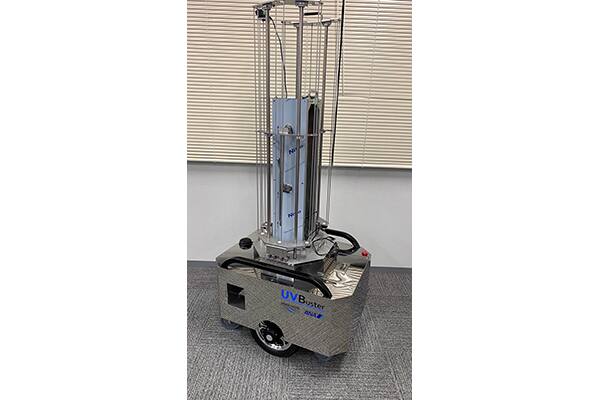 UNESCO Supporter for International Cooperative Programs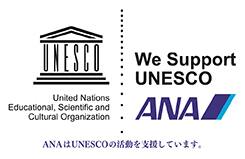 In September 2013, ANA became the world's first official UNESCO Supporter. ANA provides support for UNESCO's educational, scientific, and cultural programs, conducting activities to protect culture for future generations and create a sustainable society.
Partnership with the Global Health Innovative Technology Fund
In June 2015, ANA signed a partnership agreement with the Global Heath Innovative Technology Fund. The fund promotes global coordination through the use of Japanese technology for medical product research and development addressing infectious diseases and other health issues. ANA continues to support the fund not only to prevent infectious diseases but also to eliminate infectious diseases.
The Okazaki Kaheita International Scholarship Foundation
Kaheita Okazaki, the second president of All Nippon Airways Co., Ltd. (from 1961 to 1967), served as one of the Japanese delegates for the 1962 signing of the Liao-Takasaki Trade Agreement between Japan and China. Working toward the normalization of diplomatic relations in 1972, Mr. Okazaki worked tirelessly through official and personal channels for positive Japan-China relations, even forming a friendship with then-premier Zhou Enlai.
Based on the dying wishes of its namesake, the Okazaki Kaheita International Scholarship Foundation was established in 1990 for the purpose of fostering human development in Asia. Every year, the fund invites several exchange students from China, Thailand, Malaysia, Indonesia, Vietnam, Myanmar, and Taiwan, supporting these students in their matriculation to Japanese graduate schools (masters degree courses). In fiscal 2021, the fund supported 12 students with scholarships.
These exchange students not only pursue their studies with support from the Okazaki Kaheita International Scholarship Foundation, but also participate in activities sponsored by the fund to take students to Kyoto, Nara, Okayama, Hokkaido, and other areas to learn more about Japan and Japan's culture, climate, nature, and history.