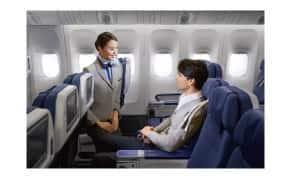 In-flight Sales Purchases
In-flight sales items (including duty-free items) which are sold on domestic and international flights with ANA flight numbers, as well as on Air Japan flights.
*For international codeshare flights, eligibility is limited to flights which are operated with ANA or Air Japan aircraft.
*Vouchers can also be used toward ANA My Choice purchases.
Domestic codeshare flights which are operated by other airlines.
Please use cash, ANA Gift Cards, ANA Travel Vouchers, ANA Diamond Service Domestic/International In-flight Sales Coupons, or credit cards to pay the balance if there are any price differences.
Notes
*If the face value of the ANA Value Vouchers exceeds the amount due, no change will be given.
*Cannot be used with other discounts such as ANA Card discounts.
Customers who purchase in-flight sales items (including duty-free items) with ANA Value Vouchers can earn 1 mile for every JPY 100 spent.