Fares depending on seat availability
What are "fares depending on seat availability"?
"Value Fare", "Basic Fare"
Based on the expected seat availability for each flight and the reservation date, the lowest Value Fare and Basic Fare that can be reserved/purchased will be displayed respectively (out of Value 75, 55, 45, 28, 21 Fare and Basic 3, 1 Fare).
From the fares selected, the lowest fare setting (from type A to N) will be applied in accordance with the expected number of seats available.

"Premium Basic Fare"
Either the Premium Basic A Fare or B Fare will be applied depending on the estimated number of seats available on the relevant flight.

*As expected seat availability varies on a daily basis, the fares available for purchase may differ depending on when the reservation is made.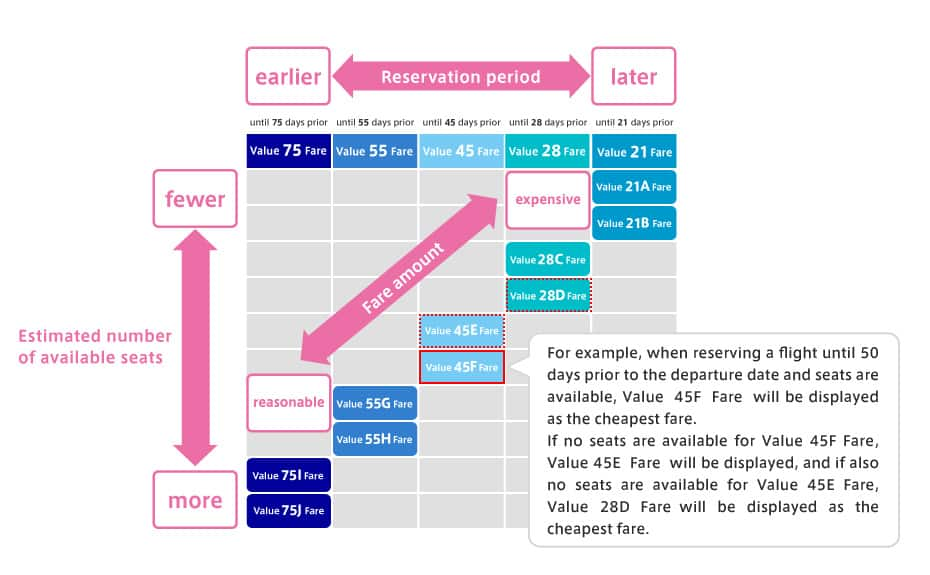 Value 75 Fare / Value 55 Fare / Value 45 Fare / Value 28 Fare / Value 21 Fare / Basic 3 Fare / Basic 1 Fare / Premium Basic Fare
Reservations on the ANA Website
・ Please make separate reservations if you would like to use different fares for different passengers.

・ Fares selected for children aged 3 to 11 years old will be compared with the Flex Child Fare or Premium Flex Fare (Child), and the cheapest fare will be automatically applied.
・ The fare amounts displayed may vary depending on when the seat availability check is carried out.

・ The fare amount for the ticket is the price that is indicated at the time of purchase. Even if the fare amount changes after purchase, no adjustments (additional charges or refunds) will be made.

・ The seat availability and fare amount may differ according to the number of passengers specified in the search conditions.

・ The best discount fare which can be reserved for the number of passengers specified will be displayed. For this reason, in the case of there being only one seat available for the discount fare in question (e.g. Basic 3 Fare), the search results given will differ depending on the number of passengers which have been specified in the search (e.g. one or two).
*When making reservations for multiple flights, it is not possible to change the number of passengers for each separate flight. If you wish to make a reservation for a different number of passengers, please do so separately.