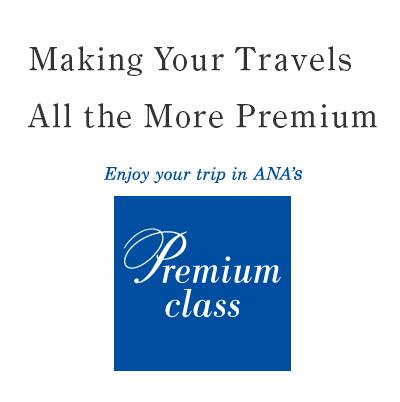 ANA Routes with Premium Class Travel
Premium Class travel is now available on many of our routes. Experience this type of travel on the route of your choice.
<Example Fares> For Flights from March 28, 2021 to October 30, 2021
*The fares listed here are effective as of . Fares may differ from the stated amounts depending on date of purchase. Passenger Facility Charge will be charged additionally (only on flights arriving to/departing from the applicable airports).
*Fares are subject to change without prior notice. Changes to these fares will be announced at Information on Fare Setting/Changes.
*Depending on the route, the individual flight, and the time of year,"Premium Class Fares" may not be available or the fare amount may differ. A limited number of seats are available for use on each flight.
*The fare amount valid at the time of your purchase will be applied. Even if the fare amount changes after the ticket has been purchased, no additional charges or refunds will be made for any difference. For more details, please see Fare Rules for Domestic Routes.
*Reservations made with the ANA SUPER VALUE PREMIUM 28 or ANA VALUE PREMIUM 3 cannot be changed after purchase. Please note that you cannot change to an earlier flight upon arrival at the airport on the departure date, even if there are seats available.
*If you wish to change to Premium Class after purchasing an Economy Class ticket with a ANA SUPER VALUE or ANA VALUE, you can pay for an upgrade at the airport on the departure date if seats are available. Please see the here files [Flights departing between October 25, 2020 and March 27, 2021 / Flights departing between March 28, 2021 and October 30, 2021] for the fees. (Same-day Upgrade Fee applies.) ANA Mileage Club members can make upgrade reservations from two days prior to departure. Please see here for further details.
*ANA VALUE PREMIUM 3 is a variable fare dependent on estimated seat availability. You will be shown the cheapest fares available for your reservation/purchase. These fares will depend on the expected number of seats available for each flight and the reservation date.For details, please see Fares Depending on Seat Availability.
View Seat Availability for Premium Class Fares / Check Fares
Enjoy Special Moments in Premium Class
Experience the high-quality services that you would expect of ANA. Gain access to our exclusive lounge, relax in our spacious seats, receive service from our dedicated cabin attendants, and savor our special, seasonal in-flight meals.
Premium Class is the perfect choice for busy business people hoping to spend their time on board effectively, or for couples wishing to celebrate their anniversary in style.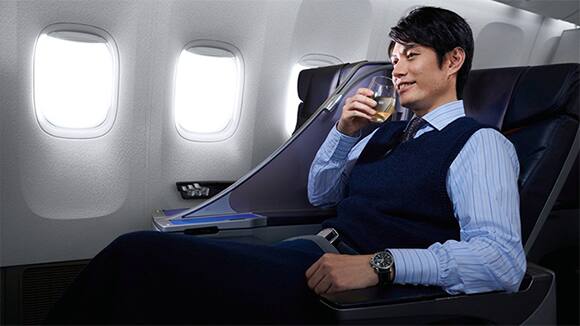 Premium Class Fare List
Premium Class Fare List
Terms of Use

Premium Fare

This fare is for passengers aged 12 or over flying in Premium Class.
Reservation deadline: Departure date / Reservation changes: Allowed

Premium Child Fare

This fare is for children between 3 and 11 years old flying in Premium Class.
Reservation deadline: Departure date / Reservation changes: Allowed

Premium Shareholder's Benefit Discount

This fare is for passengers with a Shareholder's Benefit Number Notification Card flying in Premium Class.
Reservation deadline: Departure date / Reservation changes: Allowed

Premium Disability Discount

This fare is for passengers eligible for the Disability Discount flying in Premium class.
Reservation deadline: Departure date / Reservation changes: Allowed

Premium ANA Card Holder's Discount Fare

This fare is available to customers in possession of an ANA Card (with credit card functionality) for flying in Premium Class on two flights on the same route.
Reservation deadline: Departure date / Reservation changes: Allowed

ANA VALUE PREMIUM 3

This is a discounted Premium Class fare for reservations made no later than 3 days prior to departure.
Reservation deadline: 3 days prior to departure / Reservation changes: Not allowed

ANA SUPER VALUE PREMIUM 28

This is a discounted Premium Class fare for reservations made no later than 28 days prior to departure.
Reservation deadline: 28 days prior to departure / Reservation changes: Not allowed
* There may be instances where you are moved to Economy Class without prior notice due to changes in aircraft type, transfers caused by delays or cancellations (reservation changes), or for other unavoidable reasons. If you have already purchased your flight ticket, ANA will refund the difference between the Premium and Economy fare, as prescribed by ANA. For more details, please refer to the information on "changes to Economy Class" in our

Fares and Conditions for Domestic Flights

.
*All images on this page are provided for illustrative purposes only.