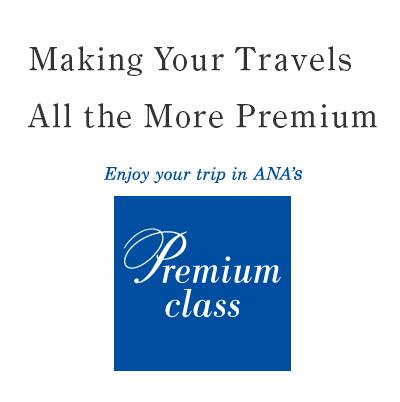 Enjoy Special Moments in Premium Class
Experience the high-quality services that you would expect of ANA. Gain access to our exclusive lounge, relax in our spacious seats, receive service from our dedicated cabin attendants, and savor our special, seasonal in-flight meals.
Premium Class is the perfect choice for busy business people hoping to spend their time on board effectively, or for couples wishing to celebrate their anniversary in style.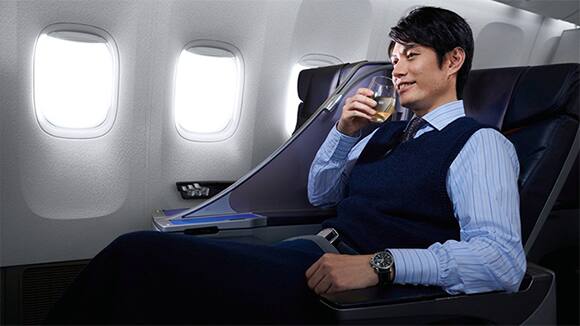 Premium Class Fare List
Premium Class Fare List
Terms of Use

Premium Fare

This fare is for passengers aged 12 or over flying in Premium Class.
Reservation deadline: Departure date / Reservation changes: Allowed

Premium Child Fare

This fare is for children between 3 and 11 years old flying in Premium Class.
Reservation deadline: Departure date / Reservation changes: Allowed

Premium Shareholder's Benefit Discount

This fare is for passengers with a Shareholder's Benefit Number Notification Card flying in Premium Class.
Reservation deadline: Departure date / Reservation changes: Allowed

Premium Disability Discount

This fare is for passengers eligible for the Disability Discount flying in Premium class.
Reservation deadline: Departure date / Reservation changes: Allowed

Premium ANA Card Holder's Discount Fare

This fare is available to customers in possession of an ANA Card (with credit card functionality) for flying in Premium Class on two flights on the same route.
Reservation deadline: Departure date / Reservation changes: Allowed

premium Biz

This is a fare that is available exclusively on ANA Biz, the business travel arrangement system for corporate customers.
Reservation deadline: Departure date / Reservation changes: Allowed

ANA VALUE PREMIUM 3

This is a discounted Premium Class fare for reservations made no later than 3 days prior to departure.
Reservation deadline: 3 days prior to departure / Reservation changes: Not allowed

ANA SUPER VALUE PREMIUM 28

This is a discounted Premium Class fare for reservations made no later than 28 days prior to departure.
Reservation deadline: 28 days prior to departure / Reservation changes: Not allowed
* There may be instances where you are moved to Economy Class without prior notice due to changes in aircraft type, transfers caused by delays or cancellations (reservation changes), or for other unavoidable reasons. If you have already purchased your flight ticket, ANA will refund the difference between the Premium and Economy fare, as prescribed by ANA. For more details, please refer to the information on "changes to Economy Class" in our

Fares and Conditions for Domestic Flights

.
*All images on this page are provided for illustrative purposes only.