Important Issues for the ANA Group's Growth Strategy (Materiality)
Identifying materiality levels in corporate issues
In formulating our FY 2016-2020 Medium-term Corporate Strategy, we implemented a materiality assessment which took into account factors such as our business strategies, global trends, and opinions from inside and outside of the company. The goal is to transform the ANA Group into an airline that has the overwhelming support of customers around the world and that enjoys sustainable growth through its consistent, continuous corporate activities and by enhancing both its economic and social value in the long term.
Corporate philosophy & long-term strategies: Confirm consistency and continuity with ANA Group corporate philosophy and long-term strategies
ANA's strengths: Contribute to solving issues through group business activities
Social trends: Gain understanding of international societal issues from a long-term perspective
Step 1: Understand and identify issues
We implemented in-house workshops that reference the guidelines which act as the basic precepts in targeting sustainable growth, such as the 10 principles of the United Nations Global Compact, ISO 26000 (guidance on social responsibility), and the Global Reporting Initiatives (GRI). This gave us an understanding of global movements in social issues, and enabled us to understand the risks, pinpoint the strengths of the ANA Group, and identify social and environmental issues.
Step 2: Prioritize issues (internal viewpoint and viewpoint of external stakeholders)
We further narrowed down and prioritized the issues examined and uncovered in step 1, based on level of importance (materiality) to the ANA Group, evaluations by stakeholders, and the decision-making process.
Subsequently, we created a hypothesis for formulating our medium-term corporate strategy by clarifying the strengths and weaknesses of the ANA Group and the level of potential impact on our management (operating) resources and possible bottlenecks owing to changes in the global business environment and to social trends. We also interviewed various stakeholders, namely experts and international NGOs and NPOs involved in environmental issues and regional revitalization.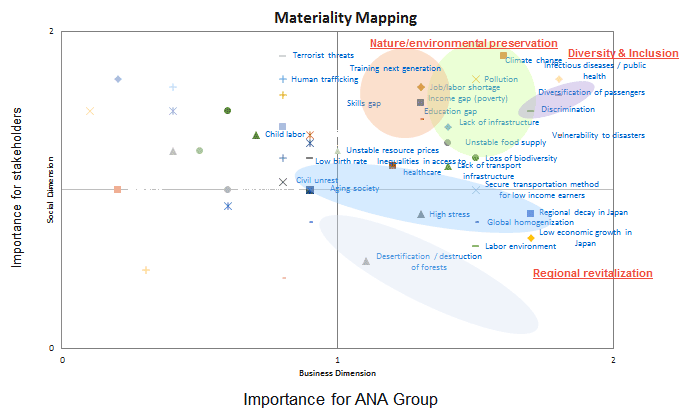 Step 3: Confirm validity (hold dialogue and management-level discussion)
We held dialogues with external experts and corporate management regarding the hypotheses we made in step 2, and we gained a deeper understanding of the social and environmental issues surrounding the ANA Group's business operations, and the expectations stakeholders have towards the Group regarding these issues.
Based on this, and as part of our Medium-term Corporate Strategy, the management held a strategy meeting and discussed the ANA Group's vision and the materiality issues it aims to tackle as a leading global airline group. The issues established were the environment, diversity and inclusion, and regional revitalization.
We believe there are two denominators common to all the materiality issues we identified this time around. First, the achievement of an open society in Japan is the foundation for the sustainable growth of the ANA Group. Second, building connections between global expectations and Japan's strengths and issues will contribute to our ability to secure global growth. During our review, we plan to further develop indicators that will measure our progress in tackling these issues.
Why are these issues important?
Environment
Importance for ANA Group

Responding to future environmental risks and creating an environmentally conscious brand

Importance for society at large

Reduction of burden on environment and paradigm shift in airline industry

Points covered in review

Progress in reducing CO2 emissions and examining use of aviation biofuel
(·Reduce aircraft CO2 emissions per revenue ton-kilometer 20% by 2020 (compared to FY 2006); boost ratio of fuel-efficient aircraft to 75% or more of entire fleet; implement commercial flights run on biofuel)
D&I
Importance for ANA Group

Promote diversity and create a symbiotic society through our businesses
(including provision of world-class universal services)
Establish brand via the global, proactive communication of information

Importance for society at large

Create a symbiotic society that is comfortable for all to live in

Points covered in review

Number of non-Japanese employees; ratio of female managers: ratio of employees with disabilities
Development and deployment of universal services
Regional revitalization
Importance for ANA Group

Improve domestic airline business and create inbound demand

Importance for society at large

Spark activity in regional economies by encouraging non-Japanese people to come to Japan (tourism, employment)

Points covered in our review

Goal of increasing domestic flight ticket sales in markets outside of Japan
Goal for FY 2020 in terms of maintaining domestic passenger revenue
Expand Tastes of JAPAN by ANA to cover all prefectures by 2017