Compliance with Environmental Laws and Regulations
Since the 2002 fiscal year, the ANA Group has progressively established a framework to ensure compliance with environmental laws and regulations in order to meet its corporate social responsibility obligations and respond to the expanding scope of those obligations.
Work Sites That Comply with Environmental Laws and Regulations
The ANA Group is involved in a variety of businesses, ranging from aircraft operations to vehicle maintenance and cabin cleaning services. Each Group work site is subject to an average of seven environmental laws and regulations related to issues such as waste disposal.
The ANA Group responds appropriately to changes in environmental legislation. In the 2016 fiscal year, the Group did not incur any penalties and did not cause any environmental mishaps as in the previous fiscal year.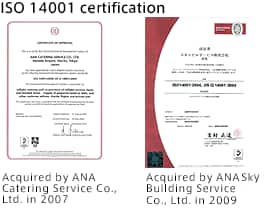 Main Applicable Environmental Laws and Regulations
Applicable Laws / Regulations
1
Law for Recycling of Specified kinds of Home Appliances (Home Appliance Recycling Law)
2
Waste Management and Public Cleaning Law (Waste Management Law)
3
Act on Recycling Measures, of End-of-Life Vehicles
4
Act Concerning the Protection of the Ozone Layer through the Control of Specified Substances and Other Measures (Ozone Layer Protection Act)
5
Act for Ensuring the Implementation of Recovery and Destruction of Fluorocarbons related to Specified Products (Fluorocarbons Recovery and Destruction Act)
6
Act Concerning Special Measures for Promotion Appropriate Treatment of Polychlorobiphenyl Waste
7
Act on Confirmation, etc. of Release Amounts of Specific Chemical Substances in the Environment and Promotion of Improvements to The Management Thereof
8
Act on the Rational Use of Energy (Energy Conservation Act)
9
Air pollution Control Act
10
Act Concerning Special Measures for Total Emission Reduction of Nitrogen Oxides and Particular Matter from Automobiles in Specified Area (Automobile NOx-PM Law)
11
Water Pollution Control Law
12
Sewerage Services Act
13
Purification Tank Act
14
Noise Regulation Law
15
Vibration Regulation Law
16
Offensive Odor Control Law
17
Factory Location Act
18
Act on Improvement of Pollution Prevention Systems in Specified Factories (Pollution Prevention System Development Act)
19
Poisonous and Deleterious Substances Control Law
20
Act on the Promotion of Sorted Collection and Recycling of Containers and Packaging
21
Construction Material Recycling Law
22
Act on Maintenance of Sanitation in Buildings
23
Food Recycling Law
24
The Law Concerning Prevention from Radiation Hazards
Disposal of Used Vehicles
The ANA Group operates approximately 5,100 vehicles in Japan. Many of these are specialized vehicles and their disposal involves various challenges such as logistics.
To properly dispose of such vehicles at the end of their service lives, the ANA Group established a nationwide network that is compliant with Japan's Waste Management Law and the Act on Recycling Measures of End-of-Life Vehicles, which was enacted in April 2005.
The network selects reliable logistics companies and disposal factories in the Hokkaido, Tohoku/Kanto, Hokuriku, Kansai/Chubu, Chugoku, Shikoku, Kyushu, and Okinawa regions to properly and efficiently dispose of vehicles used at airports in each region.
Through this network, 93 vehicles that had been used at airports nationwide were disposed of in accordance with the Waste Management Law during the 2014 fiscal year. These vehicles provided approximately 423 tons of scrap metal for recycling.
Japan-wide Used Vehicle Disposal Network