Resource Conservation and Recycling
The ANA Group's 3R Activities
The ANA Group recycles waste that is generated on board aircraft, at airports, and at offices as well as promotes resource conservation and recycling.
Promoting Closed-Loop Recycling
The ANA Group is working to realize closed-loop recycling of waste that is generated on board aircraft, at airports, and at offices in order to reuse resources. The Group recycles used paper generated by office equipment and also recycles old inflight magazines, etc., into items such as timetables, envelopes, and business cards for use in its offices throughout Japan.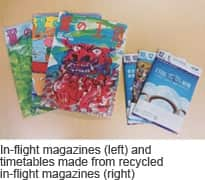 Recycling of Uniforms
Used cabin attendant, ground staff, and flight crew uniforms are broken down into fiber and reused as automotive soundproofing material. In addition, the uniforms themselves are made from materials produced from plastic bottles and other recyclables.
The ANA Group's new uniforms, which will be introduced from winter 2014, were also developed with recycling in mind.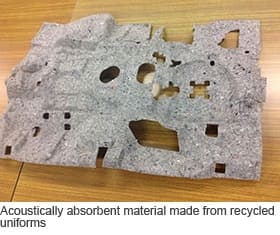 Reusing and Recycling Baggage Wrapping Bags
In September 2010, the ANA Group began reusing and recycling the plastic bags used to wrap baggage, strollers, etc., at Haneda Airport. This initiative is now being expanded to all airports at which ANA operates.
In addition, with the cooperation of passengers, we separately collect paper materials used for baggage tags, etc. at arrival areas as part of our recycling efforts. We appreciate our passengers continued cooperation for the effective use of limited resources.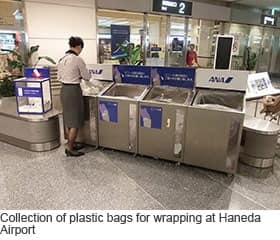 Reusing plastic bags during maintenance operations
At the maintenance division, we collect for reuse clean used plastic bags in different sizes in recycle boxes located in the office as part of efforts to promote the effective use of resources.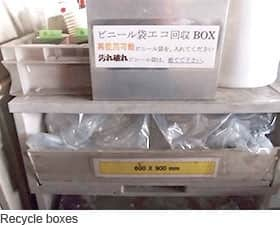 Changing to Reusable Headrest Covers
The ANA Group had previously used headrest covers made from non-woven fabric and they were discarded after each flight. It has now switched to using headrest covers made from artificial leather so that the covers can be reused, which has the effect of reducing both paper pulp usage and costs.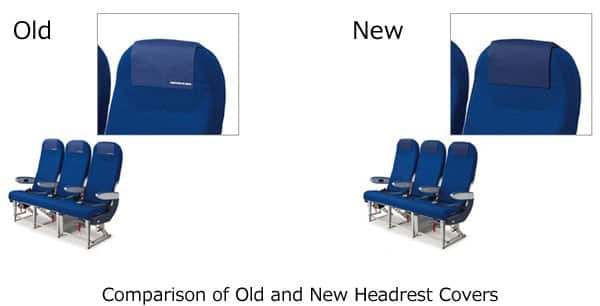 Other Initiatives
Aircraft
Maintenance
Revision of the method for calculating aircraft center of gravity (calculations without discarding fuel on board).
Use of ultra-high pressure water to clean engine parts in order to reduce detergent usage.
Recycling of aircraft engine parts and aluminum from repairs into their component metals.
Aircraft Cabins
Collecting and presorting cabin waste (bottles and cans) on international flights.
Air Cargo
Recycling vinyl sheets that are used to protect cargo from rain and dust into solid fuel and garbage bags.
Ground Facilities and Equipment
Use of rainwater and treated kitchen wastewater (intermediate wastewater)
Recycling of vehicles and other equipment used at airports into reusable metals.
Reusing office supplies (desks, etc.)
Reducing paper use by eliminating seating instruction tickets issued at boarding gates and reviewing the number of pages in periodical publications, etc.