Bicycles and Sporting Equipment [Japan Domestic Flights]
Notes

As the various handling procedures will be different for Peach-operated flights, you are kindly requested to see the information on the Peach Aviation page before you travel on such flights.
Checking in Bicycles or Sporting Equipment
You can check in skis, surfboards, golf bags, fishing tools, and diving equipment in the same manner as ordinary baggage. (However, depending on the aircraft type, those items may not be accepted due to limited cargo space.)
If the total weight together with your other baggage exceeds 20 kg but is within 100 kg, you may check in your baggage by paying the excess baggage charges.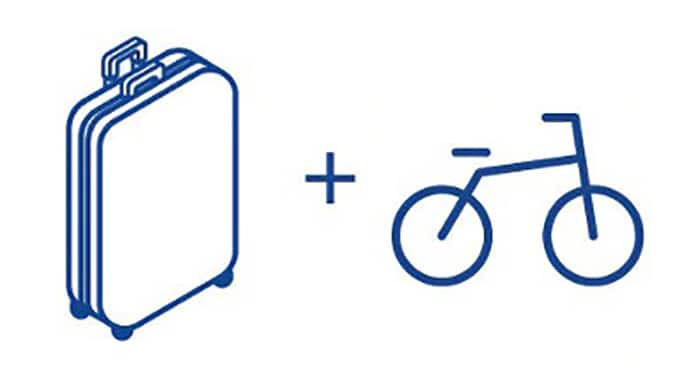 Total Free Baggage Allowance
Economy Class: Free up to 20 kg per person
Premium Class: Free up to 40 kg per person
If a bicycle is not packaged or protected, or the packaging is not suitable or adequate, please be advised that ANA is not responsible for damage or loss.

Folding bicycles: Please store in a soft case upon check-in.
Not foldable bicycles: Can be checked in if the total linear dimensions are no longer than 203 cm. Please package in a soft case or cardboard box in advance.
Bicycles with total linear dimensions that exceed 203 cm can be checked in provided that they can be loaded in the cargo compartment of the used aircraft. Please check the size and weight, then inquire with ANA Domestic Reservation and Customer Service Center.

Large sporting equipment may not be accepted due to airport facility requirements or limited cargo space depending of the aircraft type.
Please check the Checking in Bulky Baggage for the details.
Tennis and badminton rackets can be accepted as carry-on or checked baggage provided that size requirements are met.
With the exception of electric bicycles, electric vehicles are not permitted to be checked in or carried on board.
Furthermore, conditions are in place for the transport of electric bicycles. Please see General Electronic Devices with Built-in or Attached Lithium Batteries before you travel.
Baggage is handled with considerable care, but if the baggage happens to be damaged due to an inherent defect or property, please be advised that ANA will not be liable.
Baggage which exceeds 20 kg (40 kg for Premium Class passengers) but is within 100 kg will be accepted for check-in by paying the excess baggage charge (Excess baggage charges will be charged for each flight).
Table of Excess Baggage Charges

| Excess weight (Less than 1kg is rounded down) | 1 to 10 kg | 11 to 20 kg | 21 to 30 kg | For each additional 10 kg thereafter |
| --- | --- | --- | --- | --- |
| Nationwide fares (excluding some routes*1) | JPY 2,500 | JPY 3,500 | JPY 4,500 | JPY +1,000 |
| Some routes*1 | JPY 1,500 | JPY 2,500 | JPY 3,500 | JPY +1,000 |
*1.

Tokyo-Hachijojima, and routes inside Hokkaido, Fukuoka-Tsushima/Goto Fukue/Miyazaki, Nagasaki-Tsushima/Goto Fukue/Iki, Okinawa (Naha)-Miyako/Ishigaki
Please notify ANA by telephone in advance about baggage with total linear dimensions that exceed 203 cm (80 in.).
Please contact ANA at your earliest convenience as the confirmation may take some time.
Points to Note for Each Type of Baggage