Checked Baggage [Japan Domestic Flights]
Points to Note for Each Type of Baggage
Customers checking in baggage should do so in person at the baggage drop counter before departure.
Please complete procedures as early as possible in order to be able to pass through the security checkpoint at least 20 minutes before the departure time of the flight.
Check-in at the Baggage Drop-off counter
This does not apply to Haneda, Narita, Chitose, Fukuoka, Itami, Kansai, Okinawa, Rishiri, Fukue and Tsushima airports.
Please show the 2D barcode located on your E-ticket receipt, ANA Mileage Club Card, or OSAIFU-KEITAI (digital wallet). You can use SKiP Service even if you have baggage to check-in. See "Domestic boarding style: SKiP Service" for information about SKiP Service. Passengers who have connecting flights can check in their baggage. Baggage checked in for connecting flights will be routed up to 3 sectors.

Look for this logo to find a baggage counter.
Receiving Baggage claim tag
Upon receiving the "baggage claim tag", please keep it in your possession until baggage pick-up at the place of arrival.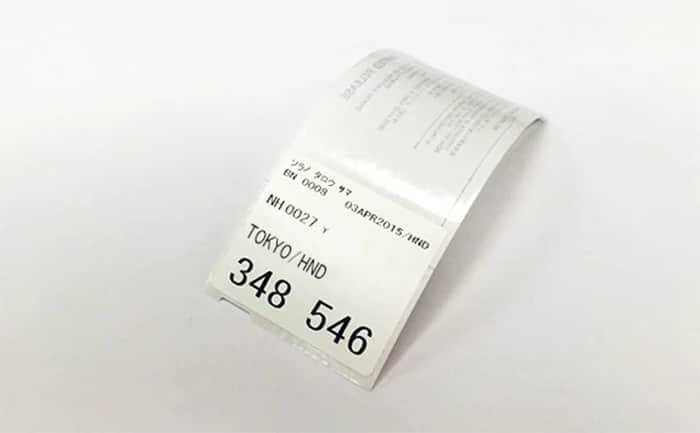 Receiving Baggage claim tag issued at a ANA counter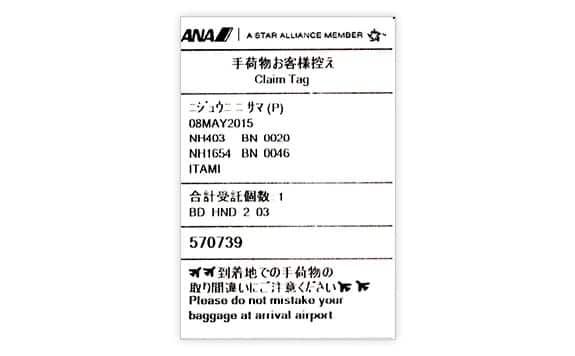 Receiving Baggage claim tag issued at ANA BAGGAGE DROP
Items to Note when Picking Up Your Baggage
At the destination, pick up your baggage by making sure the number on the baggage claim tag received at the time of check-in matches that on the baggage tag. Be sure you collect the correct baggage, as there will be a large quantity of similar shaped items. Please hand your baggage claim tag to a staff at the arrival exit.