Online Check-In for ANA Japan Domestic Flights

Online check-in is a service that allows you to check in and get your tickets issued from 24 hours prior to the departure of your flight.
Online check-in may not be available with certain discount fares and in other cases.
To select email as the method for obtaining your boarding pass, you must enter your email address.
This service is not available for Peach-operated flights.
Online check-in is now available for our Japan domestic flights.
You can also check in online by clicking Boarding Procedure on the ANA website top page.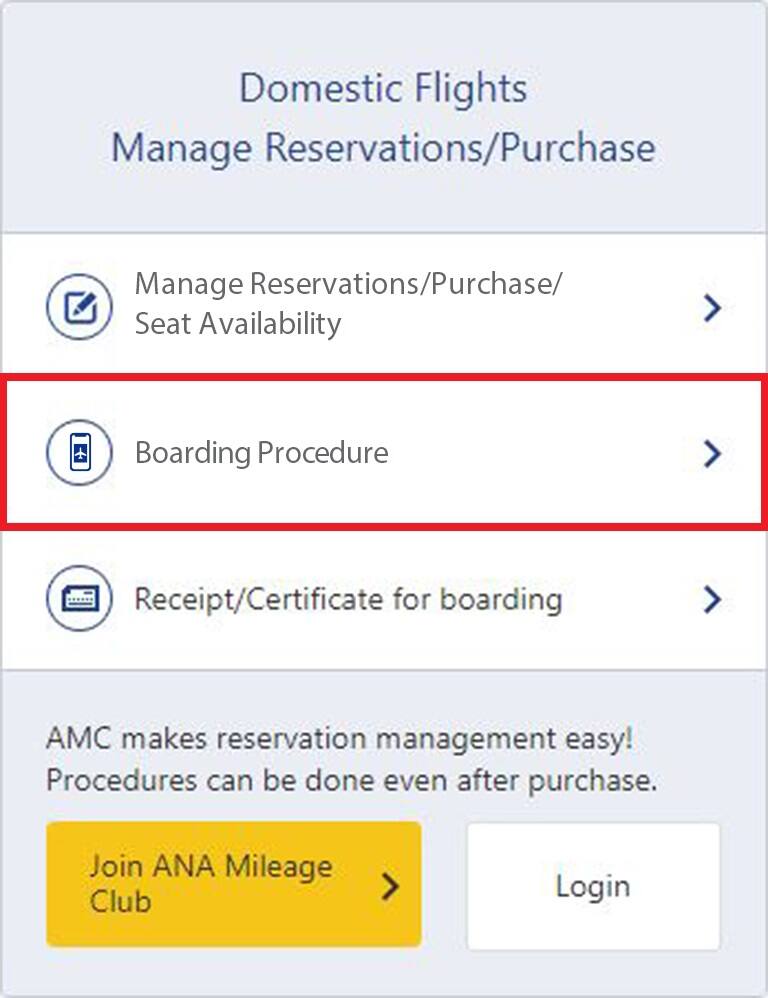 Checking In on a Computer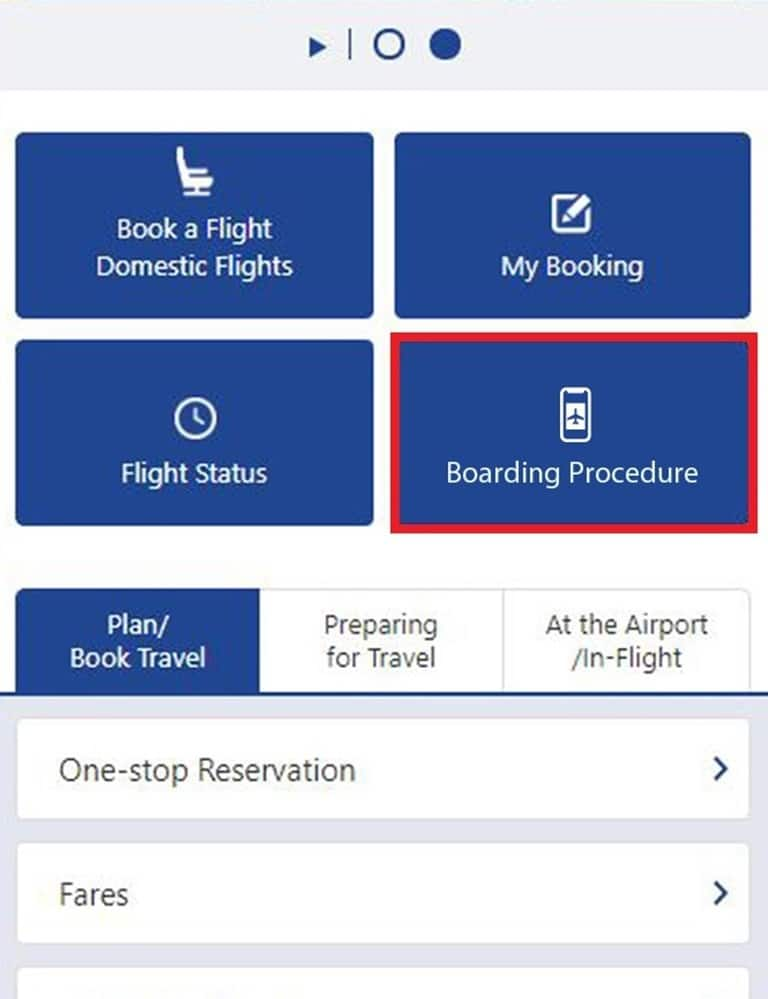 Checking In on a Smartphone

After reserving and purchasing your tickets on the ANA website, please check in online and obtain your boarding pass from 24 hours prior to departure onward.
Please scan your boarding pass on the reader to go through security, and use the same boarding pass to go through the boarding gate.
STEP
1
Flight Reservation / Purchase / Seat Reservation
STEP
2
Online Check-In / Obtain Boarding Pass
How to Obtain Your Boarding Pass
After checking in online, please download your boarding pass on your mobile device (mobile boarding pass), print it out, or obtain it at the airport.
You can board by displaying the 2D barcode on your mobile device (This cannot be printed out).
Obtain via email: The mobile boarding pass will be sent to your registered email address. Please use the mobile boarding pass image in the email (or alternatively download it from the URL provided).
Obtain via Wallet: You can register your mobile boarding pass by utilizing the iPhone (iOS 9.0 and above) Wallet application by Apple.
Please see What is Wallet? for information, including devices on which the app is available and how to add passes.
Obtain via ANA app (Android): You can register your mobile boarding pass on the app by going to the Reservation Details screen from My Booking and then clicking the Register to App button.
Notes on Using the Service
Upon presenting the mobile boarding pass, the barcode may be difficult to scan if the backlight is turned off or the screen is covered by a protective film.
Please display the screen that shows both the 2D barcode and flight/passenger information. You may be unable to go through if you only display the 2D barcode.
The 2D barcode may appear smaller on some devices due to the device settings. If it is not possible to scan the 2D barcode, airport staff may ask you to change the size or other relevant settings.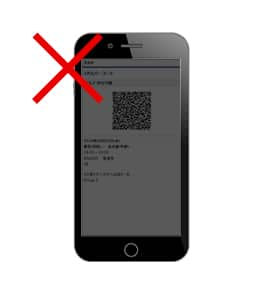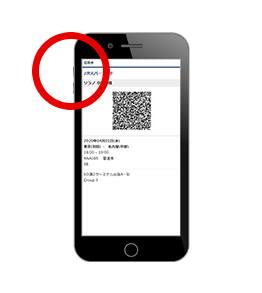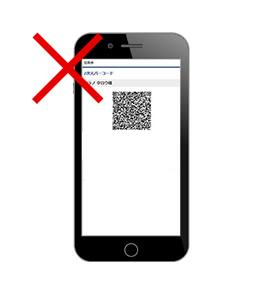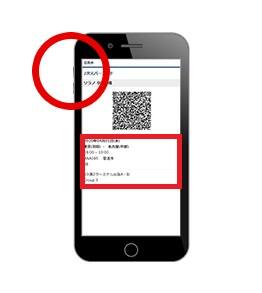 2D barcode and boarding information
Print out your boarding pass and bring it with you on the departure date.
Points to Note When Printing
The 2D barcode must be printed on your boarding pass.

After online check-in, please obtain your boarding pass at least 20 minutes prior to the departure time of your flight. You can do this using a self-service check-in machine or at a staffed counter.
STEP
3
Pass Through Security
Please scan your own boarding pass on the reader no later than 20 minutes before the departure time.
Please go through security upon obtaining your printed security certificate.

Please keep your security certificate in a safe place until you have reached your destination.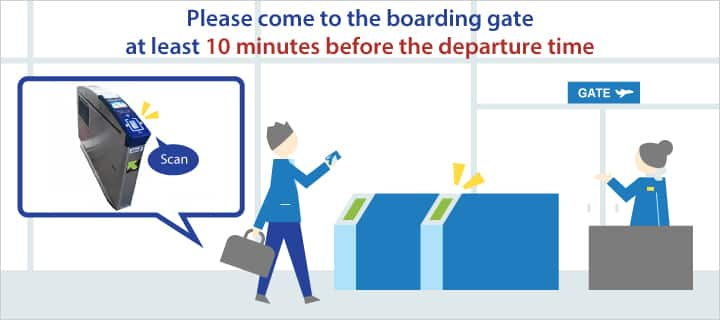 Pass Through the Ticket Gates
To board the flight, please scan your boarding pass on the reader at the ticket gate.
Please wait while your boarding information slip is printed.
Cases in Which Online Check-In Is Unavailable
Online check-in is not available if any of the following in (1) or (2) applies.
Please complete the necessary procedures at an airport counter or self-service check-in machine, and then pass through security at least 20 minutes prior to departure.
Fares for Which Online Check-In Is Unavailable
Premium Disability Discount
Premium Shareholder's Benefit Discount
Shareholder's Benefit Discount
*1.

ANA Mileage Club members who have registered their passenger information may use online check-in, with some exceptions. Those who require special assistance may receive such assistance at an airport counter.

*2.

If you log in and make a reservation from your own ANA Mileage Club account to which you have registered information from your Identification Booklet for Persons with Disabilities, your caregiver can also use the online check-in.

*3.

The online check-in will be available if you register your Shareholder's Benefit Number and registration password before you travel after purchasing your tickets via the ANA website or ANA Domestic Reservation and Customer Service Center.
Conditions have not been met for online check-in:
You have JAL flight tickets.
Your flight tickets have already been issued.
You have an open-ended ticket.
Customers requiring assistance:
Customers using the ANA Junior Pilot service
Customers requiring boarding assistance (e.g., wheelchair users)
Customers with a connecting itinerary to whom the following applies:
The reserved itinerary contains 4 or more sectors.
The fare at purchase is different from the applicable fare at check-in.
Advance upgrade fees have not been paid.
You are using a group fare (Japan domestic flights).
You will be traveling on a Peach-operated flight.
Additionally, online check-in will be unavailable if check-in is suspended due to aircraft changes, etc.
Notes

If you cancel check-in after checking in online, your seat reservations will also be deleted at the same time. Please select a new seat when checking in again.
You will not be able to change your reservation after checking in online. In this instance, please change your reservation after you have boarded the flight for which you have checked in online, or after canceling check-in temporarily.
You cannot check in online or cancel online check-in via the ANA Domestic Reservation and Customer Service Center. Please complete the procedures by yourself.
Online check-in is also available for Japan domestic flights that are ticketed as part of an international flight ticket. Please go to International Flights - Online Check-in on the ANA website to do so. (Online check-in may be unavailable in certain cases. In this instance, please check in at an airport counter or using a self-service check-in machine.)
Make Your Travel Experience More Pleasant