The icons named Japan Domestic or International indicate differences in service for Japan domestic and international flights. Content not marked with an icon applies to both, Japan domestic and international flights.

ANA provides two kinds of allergen-free in-flight meals for international flights: a "7 allergen-free meal", which does not contain any of the 7 major allergen ingredients (wheat, buckwheat, dairy products, eggs, peanuts, shrimp and crab), and a "28 allergen-free meal", which is free of the 7 major allergen ingredients listed above as well as 21 others (abalone, squid, salmon roe, orange, kiwi fruit, beef, walnut, salmon, mackerel, soybean, poultry, banana, pork, matsutake mushroom, peach, yam, apple, gelatin, sesame, cashew nuts and almond).
While we strive to ensure that none of the specified allergens enter these meals during preparation, we cannot completely prevent the possibility of airborne particles or other minute traces of the allergens entering the meals at some point. Please note that we can only provide these two types of allergen-free meals.
We recommend that customers sensitive to allergens other than those listed above, or who are otherwise concerned about the meals as described, prepare and bring their own food.
If you wish to have a special meal, please make a reservation by phone after booking your flight.
Please see "Special meals" for details such as menu examples and application deadlines.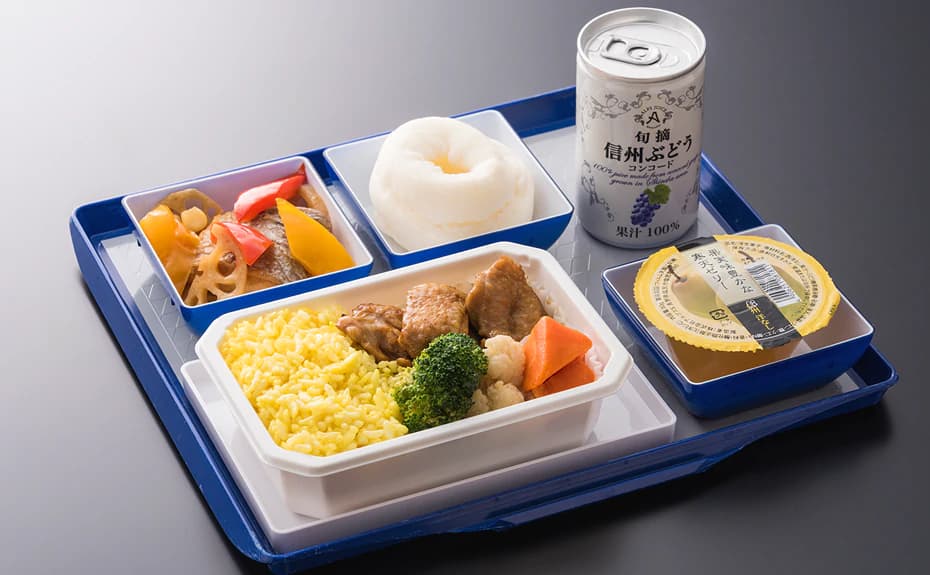 Sample image Menu varies by season.

We do not accept requests for special in-flight meals (e.g., allergen-free meals).
For 28 allergen substances in in-flight meals, please contact us in advance or make a declaration on board to confirm the use of ingredients.
Menu and ingredients are may be changed without notice.
Carrying Epinephrine Autoinjectors (EpiPen) on Board
Customers are asked to carry any prescribed medicine or injections (epinephrine autoinjectors, EpiPen, etc.) on board to be prepared to take care of themselves in case of an allergic reaction.
Customers with Peanut Allergies
ANA strives to not select or use peanuts as an ingredient for in-flight meals and drinks on ANA Group-operated Japan domestic and international flights. However, there is a possibility that the meals and drinks may be exposed to peanuts or peanut by-products (such as peanut oil) during preparation or manufacturing.
For more information refer to ANA Policy Regarding Customers with Peanut Allergies.
Handling for Allergies on Flights to/from Canada

If you have a disability caused by a severe allergy to peanuts, another nut variety, sesame seeds, an animal, etc., you can make a request for an allergy buffer zone to be established around you in order to avoid the risk of exposure to the relevant allergen as much as possible.
For further details, please see Allergy Buffer Zones.

For codeshare flights operated by our partner airlines, the regulations of the relevant partner airline will apply. Special assistance on such flights may differ from that offered by ANA. For details, please contact the partner airline operating the flight directly.
Frequently asked questions about Customers with Allergies
If you have any questions or concerns please contact the ANA Disability Desk.