New Chitose Airport is convenient for flight travels to Hokkaido and touring Sapporo. Flights to New Chitose; booking, airline ticket reservations and purchases are available. Flight schedule, airfare, and in-service cities with flights to Hokkaido, especially Sapporo areas are also introduced. Convenient transport access from Hokkaido's largest airport, New Chitose Airport (CTS) to Sapporo city, Chitose city etc. are also available.
---
New Chitose Airport (CTS) to Sapporo city center
New Chitose Airport Station to Sapporo Station
JR Chitose Line/JR Rapid Airport
Time required
Fare
Operating hours
JR Chitose Line: Approx. 51 minutes,
JR Rapid Airport Express: Approx. 37 minutes
1,150 yen
6:39-22:53
New Chitose Airport to Sapporo city center (via Fukuzumi Station)
■Hokkaido Chuo Bus
| Fare | Operating hours |
| --- | --- |
| 1,100 yen | 8:40-22:55 |
| Fare | Operating hours |
| --- | --- |
| 1,100 yen | 8:40-22:55 |
[Pickup location]
Taxis are available at all times at stand 80 at the International Terminal Bldg. and at stands 11 and 17 at the Domestic Terminal Bldg.
Sightseeing taxis and jumbo taxis can be arranged at the arrival lobby information desk.
Time required
General fare
Operating hours
About 1 hour and 20 minutes to Sapporo
About 40 min. to Tomakomai
About 10,000 yen to Sapporo Station (Fixed Rate Taxi Service)
8,000 yen to Tomakomai Station.
24 hours
Car rentals are arranged at the information desk (transportation counter) on the first floor of the Terminal Bldg.
*Operating hours Varies by car rental company.
| Toyota Rent-a-car | Nissan Rent-a-car | Honda Rent-a-car |
| --- | --- | --- |
| 8:00-20:00 | 8:30-19:30 | 8:30-19:00 |
Sapporo, that is the prefectural capital of Hokkaido, is Japan's furthest government-designated city to the north, with the same area as Hong Kong. It has a population of 1,969,619 (as of September 1, 2019), making it the fifth largest city in Japan.
The mean annual temperature is 9.5°C. The mean temperature is 22.5°C in summer, which is cooler than Honshu (the main island), and the humidity is also lower, creating a refreshing climate. In winter, however, the mean temperature drops to -7°C and the ground covers in snow. Thorough snow and ice control measures such as snow removal are carried out in the city, so it will not hinder you greatly when visiting Sapporo for sightseeing. Just remember to wear layers in winter, as rooms are well-heated, creating a large temperature gap between the indoors and outdoors.

The main tourist spot in Sapporo is Odori Park. This park is well-known as the place where the international-level Sapporo Snow Festival event is held. Despite being located in the business district in the city center, it has lawns, trees, and fountains, and is a familiar place not only for tourism, but also for locals to rest and relax. Aside from winter, there is the Lilac Festival in spring, Beer Garden in summer, Autumn Festa in fall, and other events for each season, so that the park is always bustling. The basic design of the gorgeous Moerenuma Park that fuses art and nature was developed by Isamu Noguchi, one of the leading sculptors of the 20th century. From the top of Mt. Moiwa covered in the Moiwa primeval forest that is a national natural treasure, you can see a vast panoramic view of the streets of Sapporo. It has one of Japan's most stunning night views; as night approaches, the view of dazzling light spreading across the scenery below is breathtaking. Sapporo has also maintained historical buildings like the Hokkaido Jingu shrine and the Former Hokkaido Government Office Building and facilities such as the Okurayama Viewing Point and the Miyanomori Ski Jump Stadium from the Sapporo Winter Olympics held in 1972. There are also many ski slopes within an hour's drive from the city. You can easily enjoy fun winter sports in excellent "powder" snow.

Another great part of tourism in Sapporo is the food! Hokkaido has thriving agriculture, dairy farming, and fisheries industries, and delicious ingredients from around Hokkaido can all be found in Sapporo. Main Sapporo dishes made with those ingredients are ramen noodles, soup curry, and mutton barbecue (called "Genghis Khan"). You also do not want to miss the sushi and seafood rice bowls made with fresh seafood.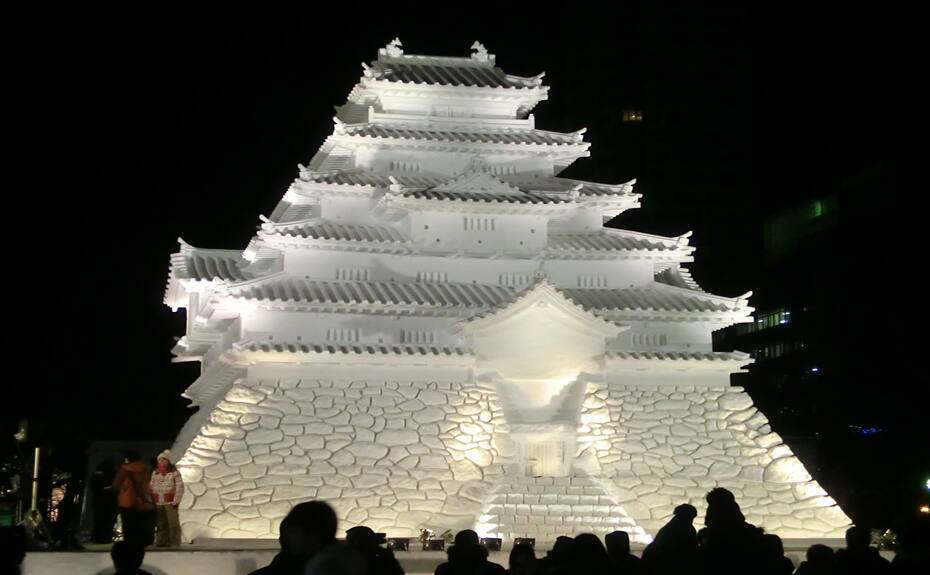 Kaisendon (seafood rice bowl)
Fare Selection for Flight to Sapporo (New Chitose)
Fare for U.S./Canada Departure
Fare for Europe Departure
Fare for East Asia Departure
Fare for South East Asia/South Asia/Oceania Departure
---