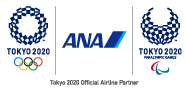 The vision behind HELLO BLUE, HELLO FUTURE
HELLO BLUE, HELLO FUTURE
These words reflect our vision for 2020 and beyond.
HELLO BLUE, HELLO FUTURE
Blue is the color of the ANA.
The blue circle represents the blue earth, or the world.
HELLO BLUE, HELLO FUTURE
This is the beginning of a new challenge, creating new value and serving as a bridge connecting
our diverse customers around the world regardless of culture, language, nationality, age, gender, or disability.
Many people are expected to come to Japan in 2020, and our aircraft may be some of these passengers' very first experience of the country.
On board our aircraft, at the airport, and in a variety of other settings, we want to provide tangible
and intangible services that delight our customers from all over the world.
By providing world-class universal and inclusive services, we wish to act as a bridge between Japan and the world, contributing not only
to the success of the Olympic and Paralympic Games Tokyo 2020 but also providing pleasant air travel for all.
Everyone at ANA will work together as one to make the year 2020 a runway from which people both in Japan and around the world can take off.