During the promotional period shown below, members traveling on international flights can make reservations to upgrade from Economy Class to Premium Economy free of charge.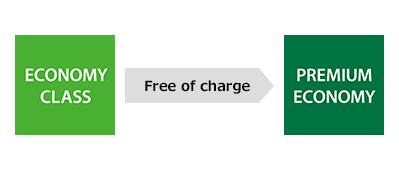 2019 Diamond Service Members
2019 Platinum Service Members
ANA Super Flyers Members
Applicable boarding period
From October 1, 2019 to March 31, 2020
Upgrade Reservation Period
From late September 2019 (planned*) up to 24 hours prior to departure
*The dates on which reservations can be made will be announced on the website once they have been decided.
ANA Group(ANA/Air Japan) operated flights
*Not available for codeshare flights with ANA flight numbers which are operated by other airlines, or codeshare flights with other airlines' flight numbers which are operated by ANA.
All Economy Class booking classes
*This offer is not available when using award tickets.
*Click here to see the booking classes that will be eligible for upgrade reservations after the promotion has finished.
Reservations can be made through the ANA website and the respective Premium Member service desks.
To be announced for the update soon.
Waitlisting is available until the departure date.
*Based on the seat availability situation for the flight, waitlisting requests may not be accepted.
ANA international flight awards cannot be used in conjunction with upgrade awards.
Due to the system restriction, only one passenger can apply through the ANA website. Please call the number below to arrange for multiple passengers.
There are limited number of seats available for this promotion.
When using upgrade awards, mileage and ANA Premium Point accrual is calculated based on the class of service of the originally purchased ticket.
Upgrading cannot be used on board.
A ticket must be purchased for all sectors in order to be eligible for upgrade award waitlisting.
Please see here for other notes regarding upgrade awards.