Infection Prevention Measures
Here you will find information on the measures ANA is taking to prevent infections, as well as its requests to customers to ensure comfortable and safe travel. Please note that the availability of equipment and the type of equipment available will vary depending on the airport.
Before departure / Check-in area
Wearing of Facial Covering
Ground staff will wear facial coverings.

Acrylic panels will be installed at the check-in counter.

Limited to certain airports within Japan

Installation of disinfectants and hand sanitizers
Hand sanitizer stations will be located by the airport entrance, self-service check-in machines and self-service baggage drop machines.

Disinfection of equipment
We will regularly disinfect equipment and supplies such as check-in machines and wheelchairs.
Temperature measurement
Temperature measurement will be carried out near the entrance of the security check.

Currently underway at some airports.

Installation of disinfectants and hand sanitizers
Hand sanitizer stations will be available throughout the airport.
Wearing of Facial Covering
Lounge staff will wear facial coverings.

Installation of transparent acrylic panels
A transparent acrylic panel will be installed at the lounge receptions.

Installation of disinfectants and hand sanitizers
Disinfectants will be located at the entrance of the lounge, and at the food and drinks area.

Preventing Droplet Infection
To prevent droplet infection, partitions will be placed between each tables and the food also will be covered with lids or sneeze guards.

The ANA Lounge at Daniel K. Inoue International Airport (Honolulu) implements infection control measures based on the instructions of the Hawaii Department of Health.
Oversea lounges except ANA Lounge at Honolulu are not subject to the measures.
Wearing of Facial Covering
Ground staff will wear facial coverings.

Installation of disinfectants and hand sanitizers
Disinfectants and hand sanitizers will be installed around the boarding gate area.

Boarding will be in order.
To avoid close contact in the cabin and aisles and to ensure smooth boarding, we will guide passengers in the following order.
(1)Pre-boarding for passengers who need assistance (2)Priority boarding (3)Window seat (4)Middle seat (5)Aisle seat
Ground Staff and Cabin Attendants Wearing Masks
For added reassurance to our customers while traveling, our ground staff and cabin attendants will be wearing masks.
Staff working outside may not wear a facial covering, but will continue to observe social distancing measures.
Lounge Services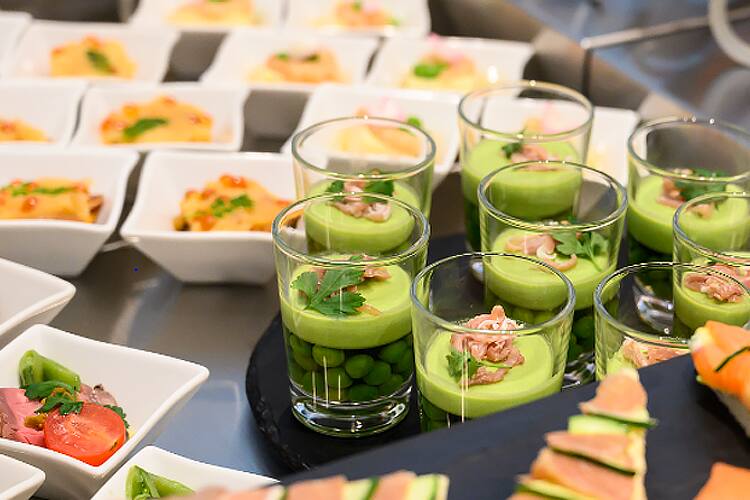 The buffet service had been resumed from December 2021 at ANA international lounges at Haneda and Narita Airport.
To prevent droplet infection, we will place covers or sneeze guards on the food and replace tongs frequently.
Maintaining social distancing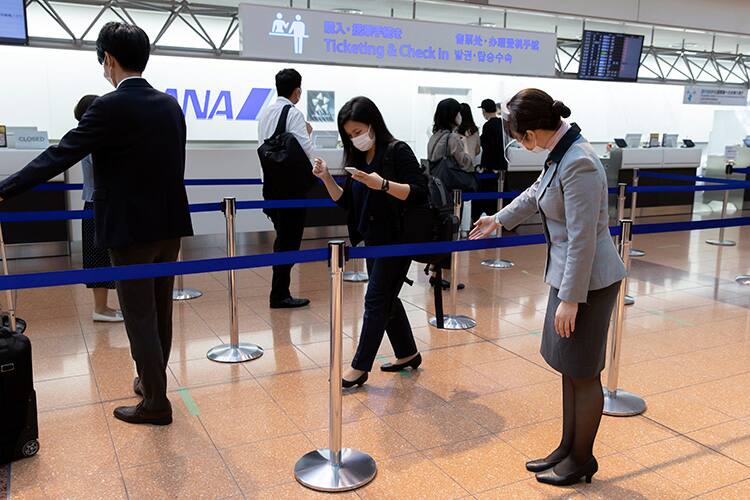 The staff at airport facilities, security checkpoints and boarding gates will guide and assist passengers in maintaining an appropriate distance between each other.
We highly encourage our customers to check-in online, as well as using self-baggage drops for your checked baggage.
Boarding Procedures
With the aim of providing our customers with greater peace of mind on flights, we collaborated with the Nishinari Laboratory at Tokyo University to carry out research into the optimum boarding process.
Our findings revealed that we can make the boarding process smoother while preventing crowding in the aisles and other areas of the cabin, by having window seat passengers board the aircraft first, followed by those in middle seats and then those in aisle seats. We have therefore decided to introduce this boarding order for our flights.
Furthermore, we will resume our Priority Boarding Service which was temporarily suspended, and invite passengers to board the aircraft in the order shown below.
Boarding order:
(1)Pre-boarding for passengers who need assistance (2)Priority boarding (3)Window seat (4)Middle seat (5)Aisle seat
Aircraft cabins will be disinfected frequently.
In order to reassure passengers flying with ANA, we regularly disinfect the following parts of the aircraft: Tables, armrests, seat equipment (including television screens on seats and remote controls), toilet door knobs, and other parts handled by passengers. (Disinfection may not be possible in the event of a late arrival delay, etc.)
International routes: Aircraft are disinfected with alcohol after the arrival of each flight.
Japan domestic routes: Aircraft are disinfected with alcohol every night. In addition, Japan domestic aircraft transporting many passengers in one day are regularly disinfected with a long-lasting virucide.
Provision of Cleansing Wipes, Masks and Mask Cases
Although the cabin is cleaned and disinfected regularly, we will provide additional cleansing wipes if you require them for use on your tray table and similar equipment to give you greater peace of mind.
After using the wipes, please put the wipes in the disposal bags and return them to the cabin attendants.
When using the wipes at your seat, please be aware that rubbing forcefully may lead to discoloration and the resultant coloration of your clothing, etc.
This item is intended to be used inside the aircraft. Please refrain from using it for other purposes.
We also hand out masks and mask cases to those who wish to have them.
Ensuring air circulation
All aircrafts operated by ANA are ventilated with clean air.
Clean air through adequate ventilation
During the flight, the aircraft absorbs a large amount of clean air from outside the aircraft, which allows for the cabin's entire air to be replaced in approximately three minutes.
All ANA Group Aircraft are equipped with high-performance filters
The cabin air is filtered and circulated through high-performance filters which are also used in hospital operating rooms, ensuring high-quality clean air.
Constant air circulation
Whether in flight or on the ground, the cabin air is constantly flowing, from the ceiling to the floor. The air in the cabin does not stay stagnant.
The International Air Transport Association (IATA) has announced as part of their official assessment that the risk of infection in aircraft cabins is low for a number of reasons, including the following: The way in which air is circulated as described above, the fact that passengers are seated facing the same direction*, and the fact that seatbacks act as a barrier.
Although some of our aircraft have seats that face each other (THE Room), such seats are separated by panels and have enough distance between them to ensure the same level of safety as other aircraft.
Meals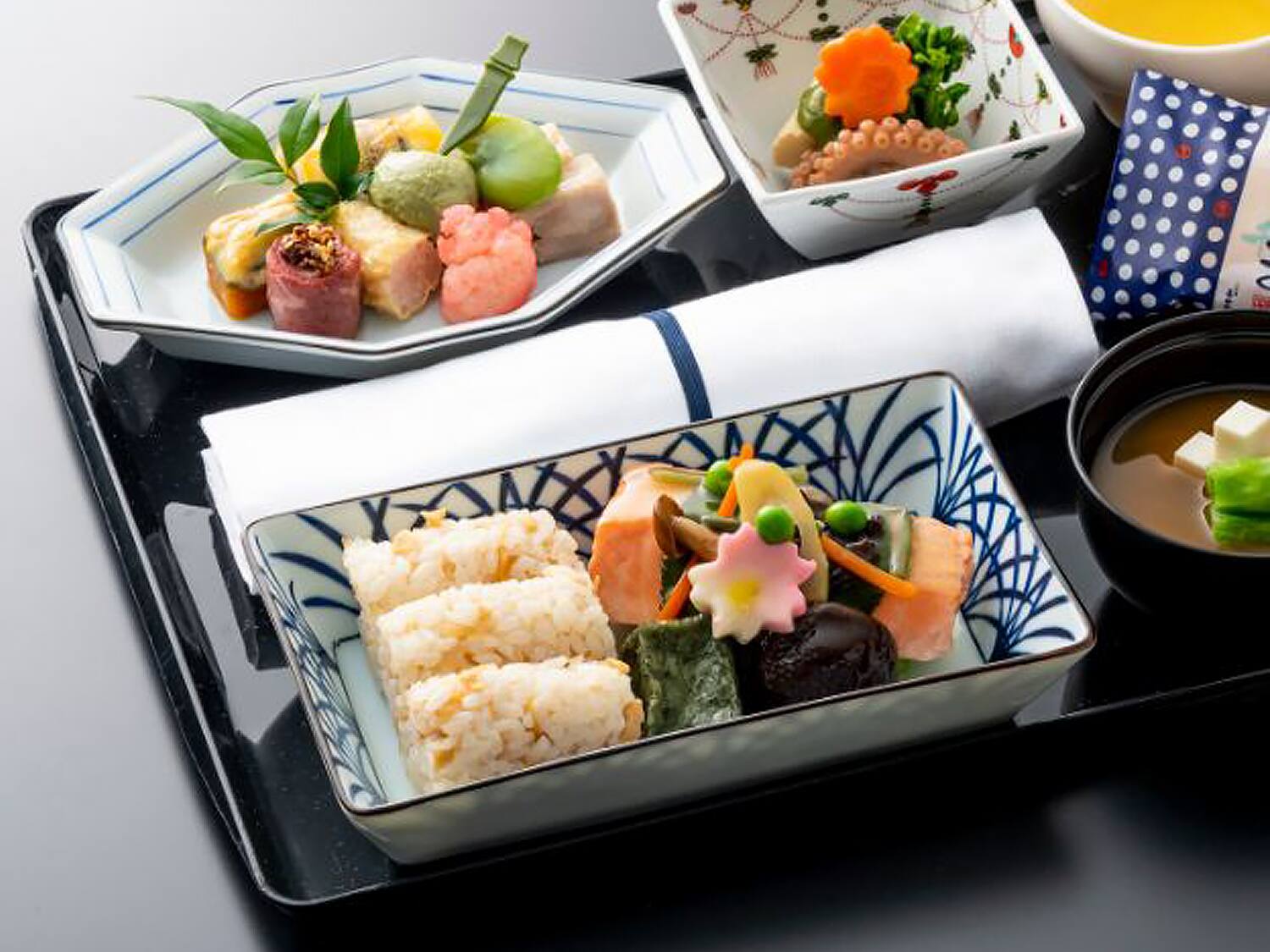 We will offer the following services so that passengers can enjoy their meals in greater safety on board.
Meals will be served on a tray.
Improving the Hygiene and Cleanliness of Our Cabin Toilets
We have installed hands-free handles and locks that allow passengers to unlock and open toilet doors using their arms or elbows.
(We are installing these first on medium-body and wide-body aircraft operating on our Japan domestic routes. Please note that some aircraft may not be equipped with these facilities.)
Hands-free facilities are now available for flushing the toilet, washing your hands, and opening and closing the trash can.
(These facilities may not be available on some aircraft.)
Search for the page you want using the site search function.