Request to our customers
To reassure a comfortable and safe environment for all our passengers on board,
we kindly ask our customers to follow our new safety protocols and precautions.
Before Departure / Check-in Area
Wearing of Facial Covering and Face Shield
Please wear a mask or facial covering whenever at the airport including when at the lounge, gates and baggage pickup.

Securing Social Distance
Please follow the ground staff's instructions to secure proper distance between other passengers.

Hand Sanitization
Please thoroughly sanitize your hands with disinfectants.

Handing boarding passes, baggage tags, etc.
Please kindly pick boarding passes, baggage tags, passports, etc. up from the tray upon check-in at airports.

Temperature measurement
Please check your temperature before coming to the airport, and refrain from traveling if you have a fever of 37.5℃ (99.5°F) or above.

Traveling to the airport
Please refrain from bringing other people who are not traveling to the airport with you
Picking up your security certificate
We kindly ask for your cooperation to hold your barcode on your boarding pass to the reader and picking up your security certificate yourself.
Hand Sanitization
Please thoroughly sanitize your hands with disinfectants when entering the lounge and before using the service counters.
Receiving your boarding information card
Please hold your barcode on your boarding pass or IC chips over the reader and pick up the boarding information card yourself.
Social Distancing
When boarding and disembarking, please maintain distance of about one meter from the passenger in front of you.
When disembarking the aircraft, we will guide you to exit in the order of front, center, and rear end of the cabin. Please stay seated until you are given instructions.

Social distancing during flights
While on the plane, please refrain from leaving your seat as much as possible. If you wish to change seats, please notify a cabin attendant.
Please wash your hands, cover your mouth when coughing and keep your conversations down to a minimum as preventive measures.

Lavatories
Please wash your hands before and after using the lavatories.
In addition, please close the lid of the toilet before flushing.

Proper disposal of masks and facial covering
To prevent the spread of COVID-19, please take your used masks, facial covering, tissue paper, etc. home as much as possible.
Please use plastic bags when disposing your masks in order to maintain a clean and safe environment.
Masks or facial coverings are now essential gear at airports and on planes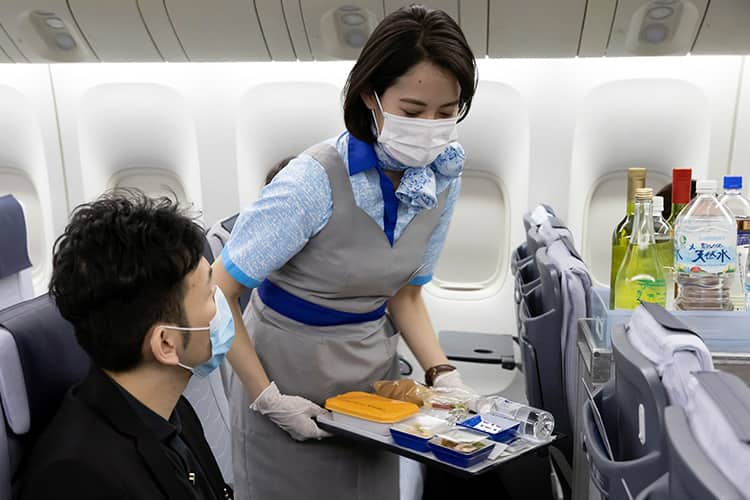 With all passengers' comfort and health for each other in mind, we ask our customers to wear masks or facial coverings as essential gear when traveling through airports and in-flight the planes. Exceptions will be made for infants and those who are physically unable to wear masks.
Passengers who are not wearing facial coverings, as well as passengers showing symptoms of sickness such as fever and cough may be refused to board.