Human Rights Initiatives
Fundamental Approach
The ANA Group specifies conduct for all Group officers and employees in the ANA Group Code of Conduct to help resolve human rights issues.
<ANA Group Code of Conduct>

We properly understand human rights and continuously conduct human rights education.
We do not discriminate on the basis of nationality, race, ethnicity, religion, social status, social origin, gender, age, or disability status.
We do not allow any form of harassment that interferes with the right to work and a favorable workplace environment.
Promotion System
Dedicated staff in the Human Rights Awareness Room of ANA's Personnel Department formulate and execute plans for raising human rights awareness. In addition, the ANA director responsible for personnel leads the Human Rights Education Promotion Committee, which reports on the status of progress and tasks.
Activities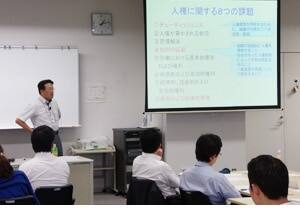 During the fiscal year 2013, the ANA Group continued to provide human rights education when training new employees and newly appointed managers. Beginning with new employee training in March 2013, the Group is reexamining the content of its training programs to give employees an opportunity to think broadly about topics ranging from global trends in human rights to examples from their surrounding environment. As in previous years, we are also actively participating in outside training primarily for supervisors in charge of general affairs at Group companies.
We are also aware that we are expected to promote CSR measures not just in our own business activities, but throughout the entire supply chain, which includes suppliers, manufacturers and contractors.
In April 2013, we added a Supplier Management Policy and CSR Guidelines to the ANA Group Purchasing Policy, and distributed them to companies involved with our business partners. The CSR Guidelines were formulated with reference to ISO26000, a set of international guidelines for CSR, and cover subjects including legal compliance, human rights, labor practices and the environment. This policy will play an important role in choosing purchasing and transaction partners, and we will proactively work to gain their understanding and cooperation through measures such as regular CSR monitoring surveys to follow up on their initiatives.
Helpline
The ANA Group has a helpline for consultation on subjects such as sexual and power harassment. It is available to all executives and employees, including temporary personnel. The privacy of the counselor and the caller is protected, with the assurance that no punitive measures will be taken against those who seek consultation or cooperate in confirming facts. The Group has also commissioned consultation services at external institutions. We make employees aware of the consultation services available by putting up posters within the Group and distributing stickers.