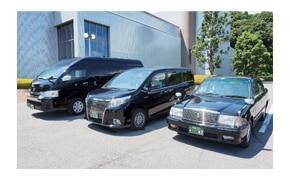 Tako Taxi is a trusted company that has provided taxi and vehicle for hire services in the Narita Airport area for over 50 years. Its offers attractive fixed fares, making it an easy choice for customers traveling to and from Narita Airport. Customers can reduce their travel burden and go directly from their home to the airport, or vice versa, without having to wait, change trains or buses, or carry around heavy baggage. Tako Taxi not only offers safety and peace of mind to customers, but also superior hospitality through free services such as the arrival welcoming service. It also offers commuter plans to companies which have operations at the airport, so please feel free to make an inquiry.
* Service is available in Japanese only.
In addition to miles that can be redeemed with credit card points, customers can earn 1 mile for every JPY 100 (including tax) spent when paying with an ANA Card.
*Certain procedures are required when redeeming credit card points for miles and an annual redemption handling fee will apply, with some exceptions. (Some cards, such as ANA Wide Gold Cards, do not require redemption handling fees.) The number of accruable miles may differ depending on the credit card company, transaction details, etc.
Mileage Accrual Eligibility
Customers who use ANA Cards to pay for fares when using vehicles for hire or taxis operated by Tako Taxi.
*Fares which are paid with fare tickets are not eligible for mileage accrual.
Use an ANA Card to pay for fares when using taxis operated by Tako Taxi.
Mileage Accrual When Paying with Apple Pay/iD/QUICPay™
Apple Pay, iD, and QUICPay™ payments are unavailable and are therefore all ineligible for ANA Card Miles Plus.
Approximately 1-2 months will be required for the miles to be credited to the mileage balance.
Service is available in Japanese only.
Narita Central Kanko Co., Ltd. Vehicle Dispatch Center


0120-32-0121
Available 24 hours a day.

https://www.takotaxi.com/

(Text is available in Japanese only.)