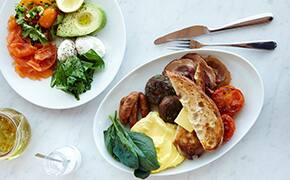 bills is an all-day dining restaurant from Sydney, Australia, founded by world-renown restaurauteur Bill Granger.
Here, you can enjoy healthy dishes and latest culinary trends inspired by Bill's global travels.
bills Ginza boasts a luxurious interior reminiscent of a jewelry box that reflects the glitz and glamour of Ginza's district, and features unique menus like afternoon tea and exquisite dinner dishes alongside familiar bills classics.
bills Waikiki encapsulates Hawaii's natural beauty inside its expansive dining space, featuring an airy wood-panelled lounge. The restaurant offers casual eats from morning until evening, inviting locals and tourists to step inside to sample their fresh produce-driven dishes drawing on local ingredients and friendly Australian hospitality.
bills Waikiki

1 mile for every USD 2.00 (excluding tax) spent

bills Ginza

In addition to miles that can be redeemed with credit card points, customers can earn 1 mile for every JPY 200 (including tax) spent when paying with an ANA Card.
* Certain procedures are required when redeeming credit card points for miles and an annual redemption handling fee will apply, with some exceptions. (Some cards, such as ANA Wide Gold Cards, do not require redemption handling fees.) The number of accruable miles may differ depending on the credit card company, transaction details, etc.
When presenting your ANA Card or ANA Mileage Club Card, please also provide your 10-digit ANA Mileage Club membership number and inform the staff that you would like to accrue miles for ANA Mileage Club.
Use an ANA Card to make the payment.
Miles Earned through ANA Card Miles Plus (ANA Card Payment)

Approximately 1 to 2 months will be required for the miles to be credited to the mileage balance.

Miles Earned by Presenting 10-Digit ANA Mileage Club Membership Number

Approximately 2 weeks will be required for the miles to be credited to the mileage balance.
Purchases made at the MAISON KITSUNÉ POCKET STORE on the first floor of bills Waikiki are not eligible for mileage accrual.
bills Waikiki

+1 808 922 1500
7:00~22:00
bills Ginza