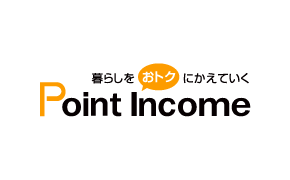 Point Income is a points website that allows you to earn and redeem points for cash, e-money, or miles.
You can earn points simply by using your favorite services via Point Income.
Double your points by earning Income Points in addition to your regular shopping points, and take advantage of a range of deals.
Start earning points straight away with a wide variety of events and promotions available.
* Service is available in Japanese only.
Mileage Redemption Increment
3,500 points (minimum required usage = 3,500 points)
Maximum Mileage Redemption Limit
Mileage Accrual Eligibility
Log in to the Point Income website (Text is available in Japanese only.), and go to the ANA mileage section of the point redemption page. Enter your 10-digit ANA Mileage Club membership number in accordance with the on-screen instructions.
Note
* Clicking the link will lead to a non-ANA website, at which point the privacy policy of that website will apply to personal information protection.
Approximately 1-2 months will be required for the miles to be credited to the mileage balance.
Service is available in Japanese only.
Income Points which have been redeemed for miles cannot be converted back. Additionally, miles cannot be redeemed for Income Points.
Up to 5,000 miles can be redeemed at any one time; however, there is no limit on the maximum number of redemptions.
Point Income