BUSINESS CLASS
LOUNGE
Information is available here on lounge options for passengers traveling in Business Class on ANA international flights. Please see our eligibility for lounge access for each airport and the services available.
Notice

Due to the recent Coronavirus outbreak and for the safety of our passengers and staff, the United Club lounge at Hong Kong airport is temporarily closed.
Information about Airport Lounges

Savor the time leading up to your flight in a relaxing, elegant space
ANA SUITE LOUNGE

Unwind as a chef prepares culinary delights in front of your very eyes
ANA LOUNGE

Enjoy a wide range of freshly made noodles "Noodle Bar"
Eligibility for lounge access and service details vary by airport and boarding class. Select the relevant airport from the List of Airport Lounges to confirm eligibility.
Haneda
Relax in our spacious, refined lounge and enjoy the time before your flight with sumptuous cuisine and an excellent range of services.
Narita
Witness culinary craftsmanship first hand in a relaxing environment with our highly popular chef service.
Experience the care and attention that comes from "Wa," the Japanese concept of harmony.
Kansai
Take the time to enjoy yourself before setting off on your trip with an impeccable range of services and carefully selected dishes.
Honolulu
ANA will open its very first lounge outside Japan in Honolulu in the spring of 2019!
End your trip to Hawaii on the perfect note by relaxing in this lounge.
Light Meals and Drinks at ANA SUITE LOUNGE and ANA LOUNGE
September 2021–November 2021
Please kindly note that our menu lineups are subject to change due to countermeasures against the novel coronavirus (COVID-19).
Eligibility varies by both boarding class and member status.
Boarding Class
First Class

Business Class

Premium Economy
Member Status
Diamond Service

Platinum Service

ANA Super Flyers Card

Star Alliance Gold
Lounge usage may vary, depending on the entry criteria and airport. Select the relevant airport from the List of Airport Lounges to confirm eligibility.
Useful Information for Those Accessing the ANA Lounge at Haneda and Narita Airports
Please check the Rules Regarding the Use of Lounges before using one of these lounges.
On international routes, children under two years old will not be counted as a "companion" (children two years and older will be counted as a "companion").
Confirm eligibility, service details, and other details for each lounge.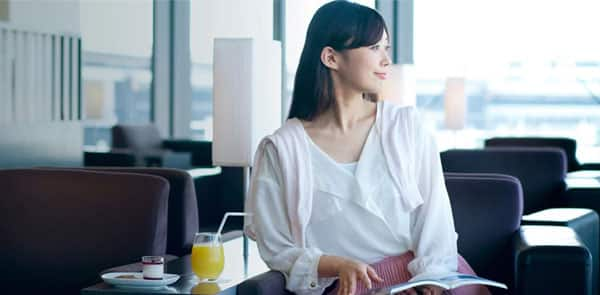 ANA Original Aroma

Experience ANA's natural, originally blended aroma at ANA airport lounges or on board and spend your time in even greater comfort with a deep sense of relaxation.